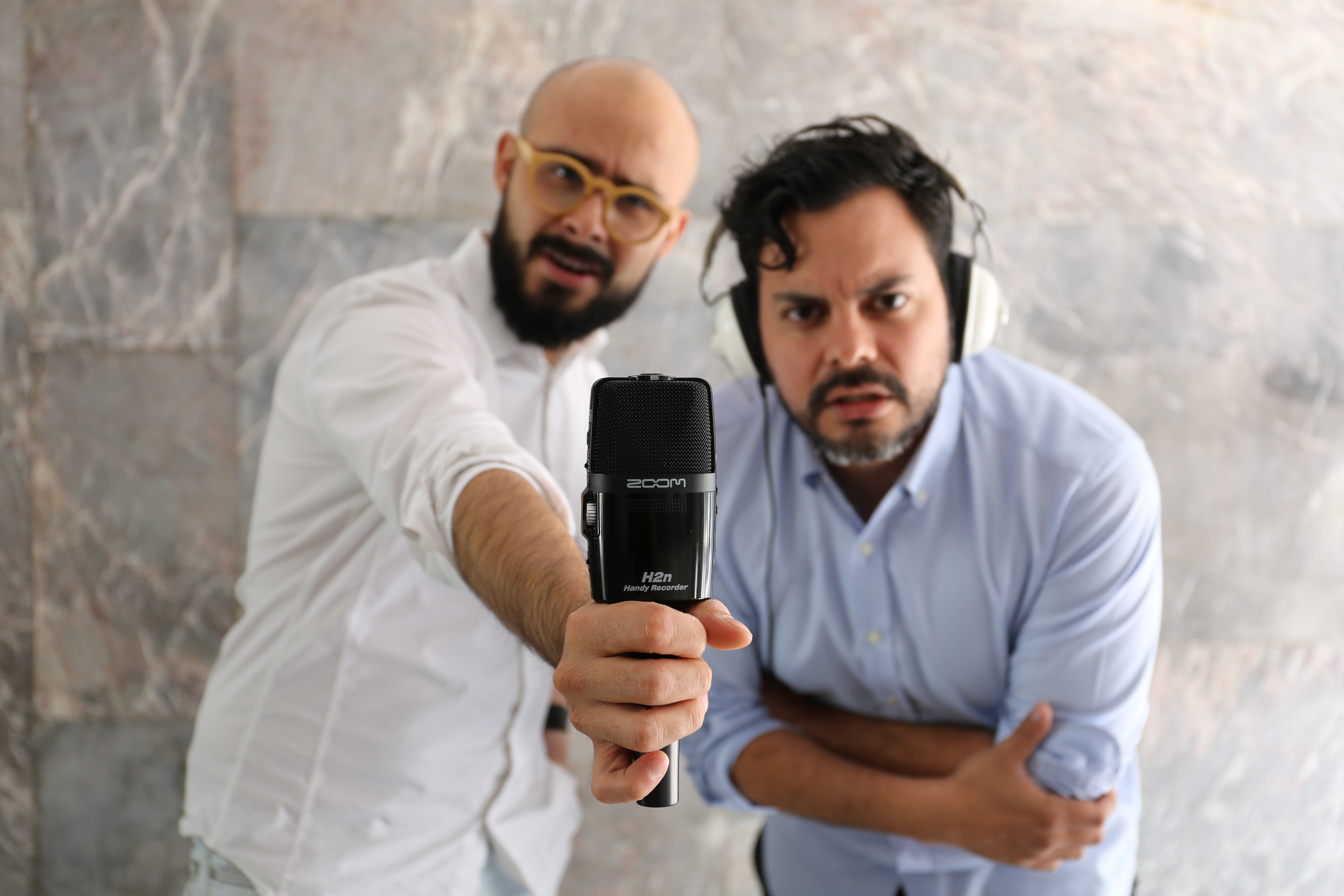 An Interview with the Producers Behind the Podcast 'Fuera de Contexto'
David Pastor interviewed José de la O and Miguel Melgarejo, the creators of Fuera de Contexto, a podcast about design and innovation.
For those who haven't heard an episode of Fuera de Contexto, what is the podcast about?
José and Miguel: We tell stories about people that use their ingenuity and creativity to resolve some kind of problem and/or achieve a dream. In the beginning, our podcast was primarily focused on designers and people working in creative fields, but we've realized that these types of stories are also very universal, and can connect with people that aren't necessarily familiar with these disciplines.
Fuera de Contexto is a totally independent podcast. We don't have the support of a network or public radio, which means there are a lot of challenges, but also a lot of freedom. We like to think that it's a modern version of the Fanzine, with nothing in terms of budget, but with a lot of attitude and character.
How did the podcast get started? In other words, what was the initial motivation?
José and Miguel: The two of us met while we were both working in the Netherlands and we realized that we were among the few Mexicans we knew that had a love and a passion for podcasts. That was a key factor in forming our friendship, and eventually we ventured into this project together.
The exact moment of its birth came when José returned to live in México. Both of us saw it as an opportunity to continue exchanging ideas and to link our contacts in order to generate strong stories for our setting.
Still, to be honest, the biggest motivation has always been to start from nothing, to challenge ourselves, to get to know people and stories –and to share those stories with the world.
The podcast is still a very new medium, and some people have never used it or don't know what it consists of. How do you present the podcast to new listeners?
José and Miguel: The easiest way is to take your cell phone, show them how to use a podcast app, and download our favorite episodes (of our podcast and of others) right there on the spot so that they can listen later on and fall in love with the medium like we did. Unfortunately, this isn't a very efficient way of reaching a sustainable amount of listeners.
What we have tried to do is to contact other podcasts that we like (like Radio Ambulante, for instance) and look for opportunities to collaborate in different ways. We firmly believe that more than promoting our podcast, we have to foster attractive offerings in our language for the public. Only then will we be able to make podcasting grow as a medium in the region. It hasn't been easy, even though we are on our way to making these types of partnerships.
What kinds of things do you have in store for the next season of Fuera de Contexto?
José and Miguel: We're giving ourselves a little time to recharge, to explore stories, and find inspiration. We hope to launch the new season in the second part of 2016 with fun, daring stories that aren't necessarily directly related to design or creation itself.
We have an eclectic list of episodes that we would like to do in the future. We have a story in the works about a really interesting house by the architect Luis Barragán. We also have one about the history of certain mysterious and illicit drinks available in some parts of Mexico, and even a live episode we hope to be able to produce soon, among other things. Fortunately, Mexico is a very fertile place for interesting stories.
Are there other Spanish-language podcasts that you listen to regularly?
José and Miguel: We have a few in mind. José de la O used to listen to Olallo Rubio's podcast (who is about to launch a podcast platform in this country that seems promising). We know of other shows and platforms that we respect but wouldn't be able to say we listen to regularly (Puentes, Podcastería, Disruptivo, etc.)
In general we haven't found a strong offering of podcasts in Spanish that tell stories in a creative, absorbing, and interesting way.
What do you think the podcast offers radio in general and its Latin American audience?
José and Miguel: The podcast (at least in Mexico) is a barely explored medium. Many people, mostly those who produce traditional radio, see the podcast as an alternative of the same product, not as a new medium that has the potential to give its listeners a completely different experience, which is where we think it reaches its true potential.
There are fewer and fewer media outlets available in Latin America that allow listeners to empathize, in a creative and original way, with a completely different person. In this region, we are filled with media that, instead of celebrating our reality, ignore it, cover it up, exaggerate it, and ridicule it. We think the podcast, because it is such an intimate setting, can help us to turn and look at ourselves with pride, fun, amusement, and sincerity.