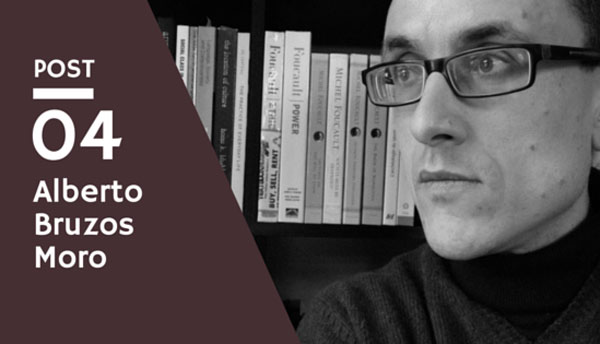 Entering the classroom with Alberto Bruzos Moro
This is the fourth post in a series about using Radio Ambulante in the classroom. Read the first post here, the second here, and the third here. 
We talked to Alberto Bruzos Moro to learn more about how he uses Radio Ambulante with his students.
1) Tell us a little bit about the class you teach.
SPA 307 is an advanced language course at Princeton University. The main goal of the class is to develop and reinforce students' accuracy and fluency in both writing and speaking Spanish, and also their autonomy and proficiency as advanced learners of Spanish language.
Additionally, the course also aims at raising awareness of the social and ideological values that permeate discursive practices. Students learn to identify linguistic features that characterize different genres, as well as social and cultural factors that aid in the interpretation and understanding of different texts and types of speech.
2) When was the last time you used Radio Ambulante in the classroom? How did you use Radio Ambulante with your students?
We work with Radio Ambulante in the second half of the semester. First we ask our students to listen to "El estudiante rebelde". We give them this guide with pre-listening documents and questions, comprehension questions and questions for analysis and discussion. In class, we start with listening activities, and then we discuss the program and the social context developed in the guide, trying to situate the narrative in relation to relevant issues such as education and elitism, education system in Chile and the United States, student protest and activism, etc.
To follow up, we give a list of episodes to our students. In pairs or groups of three, they have to choose one program and complete this presentation assignment. We have four presentations per section, so eventually all the students listen to five programs in total.
My students presented on the following episodes: Los huérfanos, La sentencia, El fotógrafo, #RenunciaYa, Otro país, Postal de San Salvador, and En busca de las palabras.
Radio Ambulante y el Estudiante Rebelde por Alberto Bruzos Moro
Download the file in slideshare
3) Based upon your experience, what benefit do these stories provide in your curriculum?
I find that Radio Ambulante is an outstanding resource to practice listening comprehension, a skill that does not receive sufficient attention from teachers and instructional materials. Moreover, the diversity of voices and accents is ideal to introduce the sociolinguistic complexity of Spanish language and develop students' critical awareness of the cultural, political, and social dimensions of language variation. Finally, the array of topics covered by Radio Ambulante allows for an approach to teaching Spanish through social justice.
4) What has been the reaction of your students to using Radio Ambulante in the classroom?
My students were very engaged. They were able to understand the programs in detail, although in some cases they needed to use the transcript –I told them that they should listen to the podcast once without transcription and then, if they could not understand some part, they could use the transcript and replay the entire program or those fragments in which they had had major difficulties.
Radio Ambulante was ideal to arouse my students' curiosity. The variety of issues and perspectives allowed for purposeful research on the larger social, historical and political context of each program. All in all, my students appreciated the opportunity to deal with authentic materials, i.e. intended for native speakers and free from the stereotypes and misconceptions too often present in commercial textbooks. They felt empowered by content that challenged their ability to understand the spoken language, provided them with a vast array of meaningful vocabulary, and stimulated their critical thinking and their agency for social change.