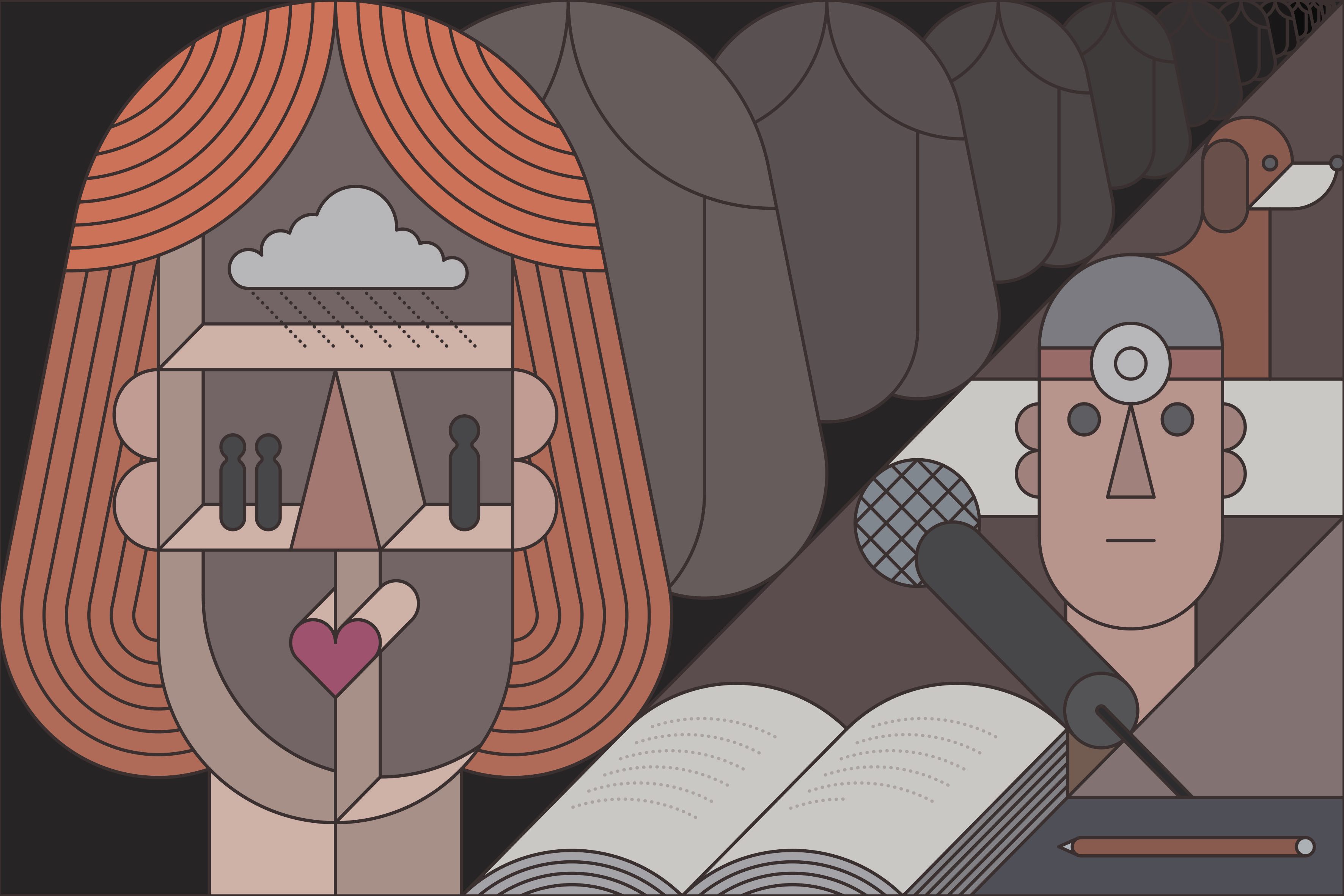 I Was Already Here – Translation

► Lupa is our new app for Spanish learners who want to study with Radio Ambulante's stories. More info at lupa.app.
---
[Daniel Alarcón]: Eight years ago, before the first episode of Radio Ambulante was broadcast, over 600 people gave to our donation drive and we collected what we needed to get it off the ground. It's very simple: without that vote of confidence, we wouldn't be here. And now we're in a critical moment, just as that one was. This year has been difficult for those of us who do journalism, and we need your generosity to continue. That's how critical the situation is.
If by the end of the year we add 800 new Deambulantes, we will be able to cover all our costs and continue doing Radio Ambulante and El Hilo in 2021. Please lend us a hand.
In addition, during these two months NewsMatch will double the donation you make. That is, if you give us $15, we will receive $30. Join today and take advantage knowing that your support will have a double impact. To donate, visit radioambulante.org/deambulantes. Thank you very much in advance!
Welcome to Radio Ambulante, from NPR. I'm Daniel Alarcón.
Today's story begins on December 7, 2014. We are at the home of a couple, Lucía Milone and Román Resines. They had lunch with their two children at their home in Villa Ortúzar, in Buenos Aires. It was a very hot day and Román remembers that Lucía said that she wasn't feeling well and she was going to lie down. But she barely got up from the table, took two or three steps, and collapsed on the floor.
 [Román Resines]: Without hitting her head, but instead she slowly collapsed.
 [Daniel]: Román ran immediately to help her and called an ambulance.
[Román]: And the surprise when she came to, was that she didn't recognize any of us who were at home.
 [Daniel]: The only thing Lucía had clear is that she did not want to be there. This is Lucía:
 [Lucía Milone]: At that moment, I wanted to go to my father and mother's house, because for me this was an unknown house. It was a place I didn't recognize. I didn't recognize the space. I didn't know the house. I didn't recognize the people.
[Daniel]: What came after that blackout would be difficult for the whole family. Lucía would have to rebuild her own life as if she were putting together pieces of a puzzle.
Our producer Aneris Casassus tells us more.
[Aneris Casassus]: The ambulance Román had called arrived at the house quickly, but that didn't bring relief to Lucía; just the opposite.
[Lucía]: The crisis deepened because a doctor had come, they wanted to take me in for a check-up. So, these people I didn't know, in a place I didn't recognize, wanted to take me to a place that I didn't know either.
[Aneris]: Lucía kept asking for her parents. Román had already called them, and when they got to the house, he told them what was happening: Lucía didn't recognize him or his two children, Martín and Francisco, eleven and six years old.
Her parents convinced her to allow the doctor to check her. She was given a pain reliever and was taken to a clinic. And she was admitted . . .
[Lucía]: With a lot of abuse, because they didn't believe what I had, thinking that I had consumed something. And they thought that's how I had lost my memory.
 [Román]: And then . . . they even pressed her on that subject. They secretly asked her, "Are you sure you didn't drink anything?" Who knows, right? An ugly situation, really.
 [Aneris]: Lucía had not taken any drugs and had not hit her head when she fainted. The doctors thought something very strange was happening and decided she should stay a few days for observation. The funny thing was, she hadn't completely lost her memory. She didn't remember her husband, or her children, or her house, but she did remember her parents, for example. In fact, she thought she was still living with them in her childhood home. That's why she had asked for them when she came to after fainting. And that's why now, when her family went to visit her at the clinic . . .
[Lucía]: When I saw . . . all my siblings, my father and my mother, they appeared to be old. I had left them looking much younger. It was quite a terrible shock to see my older great-nephews. No, no, it was kind of weird . . . pretty tough.
 [Aneris]: In those first days of hospitalization, Lucía also said she wanted to see her aunt Angelita and her godfather.
[Lucía]: And . . . nobody wanted to tell me.
 [Aneris]: No one wanted to tell her that those people so dear to her had passed away a long time ago.
As the days went by, and listening to everything Lucía told them, Román and the family were drawing their own conclusions.
[Román]: We realized she had lost, about  . . .  an average of approximately ten years of memory. I mean, she was living her life ten years earlier.
 [Aneris]: And there's more. Because she didn't even remember Román, whom she had met 13 years before.
Lucía had no choice but to trust what she was being told.
[Lucía]: I always said, "That man over there who claims he's my husband," and yes. Later my mother also told me that he was my husband, so I trusted that he was my husband.
[Aneris]: And those two children who visited her at the clinic and called her "mamá" must, in fact, be her children, as they all assured her.
[Lucía]: I don't know how to put it into words well, but it was very ugly. No . . .  it's not good not to remember and have everyone else know who you are.
 [Aneris]: It wasn't easy for Lucía, but it wasn't easy for Román, either.
 [Román]: It's like a bomb that falls and, well, you have to react and figure out how . . .  how to get out of that situation. Of course, the priority was Lucía's health and at that moment I couldn't afford, ah, any weakness, let's say. I had to think about how to organize the house, how to deal with the children.
 [Lucía]: From that moment, I remember Román supporting me constantly. I think I would have left if I had been the one in his shoes, because putting up with all that is hard, it's hard.
 [Aneris]: In those days at the clinic, a psychologist who happened to see her had recommended that she start writing a diary. And she gave her some advice: On the first pages she could write what other people told her, and on the last pages the things she was remembering . . .
[Lucía]: Until some day, they would merge. So I wrote, you came to see me; write it, and I wrote, "It's so-and-so. He says we've known each other for so long and blah, blah."
 [Aneris]: But when Lucía had an image that came to her mind, it was difficult for her to distinguish whether it was a memory or a dream. She immediately checked with Román, who didn't leave her side for a minute. He would answer as soon as she asked, so as not to overwhelm her.
[Román]: In other words, the idea was to walk her as calmly as possible so that she would remember what her life was like.
 [Lucía]: I asked him, "How did we meet? How long have we been together?"
[Aneris]: And Román would tell her.
 [Román], "It was actually a blind date. We met for the first time in a . . . in a bar. And from there, well, we never parted ways."
 [Aneris]: He told her that a mutual friend had introduced them in 2001. That Lucía was 27 years old and Román 40, with two children from a previous marriage who lived with him. He also told her that they fell in love pretty quickly.
[Román]: We started living together after a few months, and well, we built our lives together. Children began to arrive.
[Aneris]: First Martín in 2003, and five years later Francisco. He also told her that they got married in 2010.
 [Román]: And it was a beautiful situation because, let's say, ah, the youngest were already old enough and it's as if they had experienced their parents' wedding.
 [Aneris]: Lucía listened to the story carefully but found it hard to believe that she was the protagonist. Very slowly—between Román's stories, her parents' stories and those of her brothers—she was piecing together different bits of her life.
Sometimes memories came in the most unexpected ways.
[Lucía]: I wanted the smell of my dog. I couldn't remember her name, but I remembered the smell, I remembered my flowered sheets and my . . .  the smell of the dog.
 [Aneris]: Tania, a puppy who had come into her home earlier that year.
 The days passed at the clinic, and Lucía began to receive visitors—family, friends. She started liking it less and less.
[Lucía]: They came to see the circus monkey. The . . . the attraction, you know? Weird. That's the feeling it gave me.
 [Aneris]: And many found it difficult to believe her.
[Román]: Some might think she was or pretending  . . .  they couldn't believe she didn't remember them. And on top of that, some were kind of angry. And of course, because . . .  not everyone understood the situation. Or they couldn't understand that it might be something serious.
 [Aneris]: After ten days they hadn't given her a diagnosis, but, surprising as it sounds, they did send her home. Her family offered her two alternatives: go to her parents' house, where she thought she still lived, or go with Román and the boys to her own house. Wherever she felt more comfortable.
[Lucía]: The children had given me a lot of affection those days. So I said I wanted to go live with those children and that man who was my husband. I would go with them. So I decided to come here. It was hard because I came to live with people I didn't know. But the kids gave me a lot, a lot of affection.
[Aneris]: She came to the house where she had spent the last years of her life, but she didn't recognize it at all. She came in and she saw a lot of pictures of herself, hanging on the walls.
[Lucía]: I was very . . .  I looked pretty in those photos. But now I was fat and not pretty. That's how I felt.
[Aneris]: She was also surprised that in most of them, she appeared on a stage. That's when she was told that she was a singer and an actress. But for her, that woman in the photos was a complete stranger.
[Lucía]: And aside from not being able to remember that, what they said I did, they also said that I sang well, that I acted, and tot hat I replied, "I don't sing. No, no, no, I don't sing."
 [Aneris]: But she did. They even told her that the night before she fainted, Lucía had performed at a theater in the San Telmo neighborhood.
Her life as an independent singer, always running from here to there, evening shows, little or almost no sleep. On top of the typical whirlpool of domestic life, the children's school. They told her all that, and she didn't remember anything.
Seeing herself in those photos was a shock for Lucía.
[Lucía]: So, it was very hard to see someone so active in the photos and to see me so inactive in  . . .  in real life.
[Aneris]: Lucía had been discharged with the recommendation that she never be alone. The family members took turns keeping her company at home while Román worked. Lucía needed help, especially with the children.
[Lucía]: They had already their habits. So they asked for the things they were used to doing. Napping with mom. And they told me the . . . the things I used to do.
[Aneris]: But those boys who had given her a lot of affection at the clinic now needed almost all her energy, her time, her attention. They wanted to eat, play and be with her. Lucía felt overwhelmed and was distressed by one thing in particular.
[Lucía]: Not remembering that love the boys claimed I . . . I had for them.
[Aneris]: For Román it was also hard to witness all this.
[Román]: Sometimes he blurted out some . . . some phrase, something shocking. When the boys demanded something, she would say, "Hey, those . . .  those kids need to be fed" or—you know what I mean?—as if they were outsiders. In her mind she saw them as if they were outsiders, but she also knew they needed her.
 [Aneris]: The children were aware that Lucía was sick, but they were young and it was very strange for them that their mother didn't remember the things they did together.
[Román]: It's not easy for the kids, imagine the situation. But they were also getting used to it. Children have that . . . that way of . . . adapting, sometimes easier than grown-ups in some situations. It's like . . . they slowly understand it, they . . . they live it, so, well, they end up helping, you know?
[Aneris]: Christmas and New Year's were approaching. She had passed out only about fifteen days earlier, and had been out of the clinic for less than a week. Román, Lucía and the boys used to spend their January holidays and vacation on the Atlantic Coast. The itinerary was always the same: first a few days in Mar del Plata, then a few days in Costa Azul. The trip was scheduled in advance, and when the doctor authorized them, they decided to go.
 They thought it would be a good idea, the beach would help her relax and remember. Lucía asked Adriana—who was described to her as her friend—for help preparing the luggage because she was disoriented. She didn't know what she might need.
They loaded the car and headed for the coast.
[Román]: On the way she says, "I really want to smoke a menthol cigarette." From the time we met until then, she had never said that to me.
 [Aneris]: Those were habits from more than a decade earlier, before she met Román. Little things like those happened often, in everyday things.
 [Román]: She asked for a beverage that she had never ordered, whatever, for example, flavored water. She had never order one while we were together, but that's probably what she drank ten years earlier. That was the overwhelming proof of what was happening, right?
[Aneris]: When they reached the coast, Lucía—contrary to what they thought—began look more and more stressed.
[Lucía]: They, of course, poor things. They were used to us getting up, beach all day, coming back and the next day beach all day.
 [Aneris]: But she didn't feel she had the strength to do anything. Even less to spend all day long with boys she hardly knew. She wanted to sleep all day.
 [Lucía]: I didn't want to go to the beach, not all day, or prepare milk, or prepare a cooler. I didn't want to do anything. It was too demanding.
[Aneris]: The boys wanted their active mom who went to the beach with them every summer. And Lucía wanted her single life as she remembered it, without the responsibility of a family while on vacation. She wanted the freedom to do whatever she wanted without no one depending on her.
To help her remember, during those vacations Román and the boys brought her closer to things they knew she liked. They wanted to reconnect her to music, her vocation. Lucía had not sung again, nor did she remember her show nights. What's more, she didn't even know what kind of music she liked.
[Lucía]: Then my son Martín gave me a CD of . . . of all the ones they gave me . . . well, of all the ones they bought me at the time, the one that struck me the most was one of Abel Pintos, that has a song that says, "I've been here before."
[Aneris]: Abel Pintos, "I've been here before."
(SOUNDBITE FROM ABEL PINTOS "YA ESTUVE AQUÍ")
 [Abel Pintos]: Ya estuve aquí, ya te di mi amor. Me llenaste el . . .  [I've been here before, I have given you mi love. You filled my…]
 [Lucía]: And I listened to it and I felt that I had been here before. I felt at that time that I had been there, but couldn't remember.
 [Aneris]: Since this was the place where they went every year, Lucía often came across people who said they were her friends, but she had no idea who they were. This was pretty frustrating.
[Lucía]: Pretty tough to not . . . not to recognize them . . .  people who  . . .  who claimed they had a relationship with me, you know?
[Aneris]: Román tried to intervene to avoid an awkward moment.
[Román]: I kind of introduced them again, you know? I would tell her, "Well, this is so-and-so, we share such-and-such with them." But it was traumatic for her; the truth is she didn't feel comfortable.
 [Aneris]: The vacation had only made things worse.
 [Lucía]: I couldn't stand anyone. I couldn't put up with anyone. To this day I say it was very kamikaze of me going off with . . .  with people I didn't know . . .  to so many places, you know?
 [Daniel]: Lucía was getting more and more depressed. Her whole life had changed just six weeks before and now she just wanted to sleep. And when they returned Buenos Aires after that vacation on the coast, she hit rock bottom.
We'll be back after a pause.
————
[Daniel]: We're back with Radio Ambulante. I'm Daniel Alarcón. Before the break, we met Lucía, who had fainted and lost the memory of more than ten years of her life. She had been a singer, a wife, a mother, but she didn't remember almost any of that.
After a brief hospitalization, and without a clear diagnosis, Lucía spent a few days at the beach with her husband Román and their children. The problem is that they were just strangers to her. She couldn't remember them. Now back in Buenos Aires, locked into a life she didn't understand, she had fallen into a terrible depression.
Aneris picks up the story.
[Aneris]: When they returned from that vacation, Lucía entered an even deeper depression. She spent all day in bed.
[Lucía]: No one could get me up. I thought, "Why should I be here if I don't remember, if I'm more of a nuisance than . . .  than any help."
[Aneris]: And one day, when her mother's birthday was approaching, Lucía went into a crisis.
[Román]: My explanation is that she didn't want to expose herself to her family in that way, because of course we have to attend the birthday, and all that . . .  that situation evidently  . . .  overwhelmed her.
[Lucía]: I just burst out crying. Wailing, furious, you know? Anger.
 [Aneris]: Román got scared and called the doctor.
[Román]: And it's a very ugly situation? Very ugly with the boys, if they see her in that state. And, well, the doctors suggested hospitalization.
[Aneris]: That day, February 14, 2015, just over two months after she had fainted, Lucía was admitted to a psychiatric clinic. She was told that she needed to be stabilized. Lucía agreed to go to the hospital. She no longer wanted to continue the way she was.
At the clinic they began to treat her for depression. She shared her room with another patient, Cintia, and they stayed up talking until the wee hours of the morning. She did therapy with a psychologist and a psychiatrist, she had music therapy, yoga and gymnastics classes. But what Lucía liked most was painting mandalas. She could spend hours painting.
At first Román was allowed to see her only once or twice a week. And the boys called her on the phone and told her about their day.
[Lucía]: And it was very hard to talk to them because the question was, "When are you going to come? When are you coming home?" That . . .  that moment was very hard.
 [Aneris]: Lucía had to hold back her tears when she spoke with them, because if they saw her crying at the clinic, she wouldn't be allowed to continue talking on the phone. But also, because in those days she had told them that they had begun to rebuild the bond.
[Lucía]: So, it's human nature and . . . sure, they are my children. It was all very natural.
 [Román]: And it's like she was, quote/unquote, adopting them again.
[Aneris]: And now it became unbearable not to see them.
She poured her anguish out in the journal she kept on writing, just as they had recommended she do during the first hospitalization:
[Lucía]: Hey, if I read my journal from those days it's, "I miss the boys, I miss." And it was . . .  it was crazy, "I want to see the boys." Almost all the pages was about the boys. That hospitalization was pivotal.
[Aneris]: Meanwhile, at home, Román tried to explain to the boys that everything that was happening was to make Lucía better.
[Román]: Coming home and just being the three of us alone, having dinner, it was a very tough situation. But hoping that this was the solution for her, you know? Always thinking positively that, well, after treatment she could go back to being who she was before. That was the . . . our carrot, let's say.
[Aneris]: At that time, being alone for so long, Lucía began to recall some things. Little things about her past life, scenes: trips with Román and the boys, a robbery they had suffered and had become a family anecdote, the lyrics of a song she had liked.
But if you think that recovering these memories was cause for celebration, well no, not precisely. It was complex, even distressing.
[Lucía]: The feeling is strange, because it's not like you say, "Oh, yes, I remember such-and-such a thing." At the time it felt as if I were experiencing it, as if it was happening at that very moment. And there were things that were bad, so reliving certain things wasn't good.
[Aneris]: And there was something else. She could never be sure if what came to her mind was a memory or a made-up image. She had no ability to distinguish.
[Lucía]: I would get up in the morning and the image sort of came to me, and it wasn't until I asked what it was, you know? It was like, very . . .  a pretty horrible anxiety. And there were things my husband could confirm whether they were true or not, or if they were dreams, and there were things that my mom . . . and there were things that no one could tell me, because there are people who were no longer in my life.
[Aneris]: After a while, in addition to Román, the clinic allowed visits from her parents and from her brother Aldo.
 [Román]: And of course, we didn't miss any visits, nor did we miss any phone calls, because we thought she needed them when she was confined there, you know what I mean?
 [Aneris]: Lucía says they treated her very well at that clinic, and although being there was one of the hardest experiences she has ever had, that place helped her in a way that surprised her.
 [Lucía]: There I began to feel that I missed that new reality I had.
 [Aneris]: She missed Román and her children, the home. It wasn't a new reality, of course, just that it felt like it. That was her epiphany.
After a month and a half, Lucía was discharged and returned home heavily medicated. Antidepressants and other medications made her very sleepy, she wanted to sleep all day long. Weeks passed like that, in which she hardly got out of bed. The situation was very difficult for everyone.
A friend of Román's, a neurologist, recommended that they make another appointment. That's how they ended up at a well-known neurology center in Argentina, the Fleni. It was May 2015, almost six months after the blackout. They were about to do some studies on Lucía, but as soon as she arrived, she fainted and they had to admit her to the neurology center. When she left the psychiatric clinic, something strange had happened: she fainted frequently and when she came to, she was sometimes absent, disoriented.
At the neurology center, many doctors came to see her, but there was one in particular who would give Lucía hope.
 [Juan Pablo García]: My name is Juan Pablo García Lombardi. I'm a doctor . . .  a psychiatrist.
[Aneris]: Juan Pablo works at the Fleni Center for Cognitive Neurology, Neuropsychology and Neuropsychiatry. And although Lucía had not been given a diagnosis, it became quite clear to Juan Pablo and the Fleni team as soon as they began examining her. After doing several tests to rule out neurological damage, they concluded that Lucía suffered from dissociative amnesia. It was the first time that she was told something certain.
Dissociative amnesia affects the autobiographical memory, but not all of it.
[Juan Pablo]: They can be perfectly well oriented in time and space, and remember who the President is or if there was important news the previous day, but suddenly they look at a relative next to them and say, "Who is this?" Or they don't remember what they did in the last week or month.
[Aneris]: Amnesias are classified into two groups. He explained to me that the most common amnesias are those having an organic basis, the ones caused by a blow to the head, for example. Even amnesia caused by a neurodegenerative disease like Alzheimer's would fall into this group.
But there's another type of amnesias, non-organic amnesias, and one of these—the most frequent—is dissociative amnesia. This is triggered in patients like Lucía due to neuropsychological causes such as stress.
[Juan Pablo]: The person sort of . . . sort of deletes whatever generates a lot of stress on their psychic apparatus. Sometimes that blur seeks to erase some issue specifically and takes other issues along. So there can be more marked amnesic gaps, but with no damage to the brain.
 [Aneris]: What happens is that cortisol increases considerably.
[Juan Pablo]: Which is the famous stress hormone. And what has been noted is that patients suffering from dissociative amnesia have an excess of cortisol in certain areas of the brain that are also involved with the recovery of memories.
[Aneris]: The thing is that memory works in three stages: the acquisition of an experience, the storage of this as a memory and the recovery of that memory to evoke it at the necessary moment.
[Juan Pablo]: And the excess of stress hormones in the brain sometimes makes it difficult to retrieve already-saved memories. In other words, the patient is not erasing the memories from the library, so to speak, but access to those memories is being blocked.
[Aneris]: So the fundamental thing is to work on the psychological cause that generates stress to unblock that obstruction. The doctor says that it's like "detective work" to find out what triggered the dissociative amnesia in the patient.
In addition, the patient needs to be treated for the disease that accompanies the amnesia, because it usually occurs in people who have other psychiatric conditions, such as depression, anxiety or bipolar disorder.
Recovery varies according to each patient. There are those who recover their memory completely, others who recover partially, and others who gradually build their history back. But to actually know if it's a genuine memory or a reconstruction is almost impossible.
[Juan Pablo]: How to tell if you remember because you were able to access the original inscription in your memory, or if you inscribed it there by looking at photos, videos, and what someone told you it's very difficult.
[Aneris]: For Lucía and Román, finally finding someone who understood what was happening, who could explain all that to them, was a huge relief. In Juan Pablo, Lucía found the confidence she needed to get ahead.
[Lucía]: And he told me, "You are going to be what you were before." And well . . .  and from . . .  from then on, the work with him began and . . .  and the truth is that it was wonderful to meet him and it was wonderful to be able to believe everything he said, and . . .  and to give the family a second opportunity, you know? A new mom or the same one, but healthy.
[Aneris]: With her diagnosis, Lucía learned that many other people suffered from the same thing. That she wasn't the only one in the world to have experienced that. Three days after of being admitted to the neurology center, Lucía returned home and continued with Juan Pablo's treatment from his office. In a short time, he adjusted the medication and discontinued several that made her very sleepy. He also advised her go to cognitive behavioral therapy, and she began to understand how all of this had been caused by stress.
[Lucía]: I was always thinking about work and thinking about what I was going to do and . . . and the house, the boys. It was a lot, oh no, it was a lot. It was a madness that wouldn't stop. I didn't sleep; I got to the point where I just did not sleep.
[Aneris]: She decided to focus on her recovery. Continue with the treatment, get enough rest, and never go back to the hectic life she had before her blackout. Lucía didn't want to go back to the psychiatric clinic—no way. And even less . . .
 [Lucía]: To make my children go through what I put them through.
[Aneris]: Román, just as he had done when they gave her that Abel Pintos album, kept bringing her things that she liked. He took her out to the restaurants where they used to go, or he would offer her some of her favorite foods. He wanted to win her back.
[Lucía]: It was like . . .  the guy put up with it quite a lot, you know? And he endured a woman who rejected him in every way, someone who was with him, but who wasn't . . .  she wasn't his partner. And he made me fall in love again, obviously.
 [Aneris]: Little by little, Lucía was improving. She felt more energetic. And like little revelations, memories she had, kept popping up sporadically. It took her months to remember one of the most important moments in her life: the birth of her second child.
[Lucía]: And when I remembered it, it was distressing, not as a bad thing, but as having lost the memory, right?—and then to remember it again.
[Aneris]: A strange feeling, of recovering something that she didn't realize the value of until she recalled it.
Today, six years later, Lucía feels that she has recalled, or has been able at least to reconstruct, the most important parts of her history. In her house there are no more photos of her on stage. She replaced them with photos with Román and the boys. Paintings of the mandalas that she did at the psychiatric clinic. When you enter her house, you can put together a story from the things you see there, and you realize that everything is right there on the walls, so that every time she sees them, she is reminded of who she is.
 [Daniel]: According to scientific studies, between 0.2 and 7.3 percent of the population suffers from dissociative amnesia. Today, Lucía leads a normal life and takes only one pill per day. She is writing and directing plays but has not yet dared to write the script of her own story. Every summer, she returns to Costa Azul with Román and the boys. She says that's her place in the world.
Aneris Casassus is a producer for Radio Ambulante. She lives in Buenos Aires. This story was edited by Camila Segura and me. The sound design is by Andrés Azpiri with music by Rémy Lozano. Andrea López Cruzado did the fact-checking.
The rest of the Radio Ambulante team includes Paola Alean, Lisette Arévalo, Jorge Caraballo, Victoria Estrada, Xochitl Fabián, Miranda Mazariegos, Patrick Moseley, Barbara Sawhill, David Trujillo, Elsa Liliana Ulloa and Desirée Yépez.
Fernanda Guzmán is our editorial intern.
Carolina Guerrero is the CEO.
Radio Ambulante is a podcast by Radio Ambulante Estudios, and it's produced and mixed on the program Hindenburg PRO.
Radio Ambulante tells the stories of Latin America. I'm Daniel Alarcón. Thanks for listening.