Radio Ambulante in New York
On February 5th, the Cervantes Institute of New York and Riverhead Books presented Radio Ambulante: An evening of Latin American Storytelling in New York featuring live radio performances and a conversation with novelists Junot Diaz, Francisco Goldman and Radio Ambulante Executive Producer Daniel Alarcón. The show included live storytelling from producers Nancy López, Nadja Drost, Annie Correal and Annie Murphy.
Language fails us when pain can only be expressed through groans and wails. Words lose their meaning. Traumatic experiences push the limits of language and leave us with deafening silences and chasms in our memories. In Latin America, stories of violence are prevalent. Pain accompanies immigrants to new lands and gets passed down to new generations. While telling our stories can be painful —either in English or Spanish— it is a necessary task, as it is one of the few ways we can transcend trauma's painful and private isolation. On February 5th, in front of large bilingual audience at the Cervantes Institute, acclaimed writers Junot Díaz and Francisco Goldman spoke with Daniel Alarcón about bilingual narratives. It was a rich discussion filled with personal stories from the authors and analyses about the linguistic challenges Latino communities face in the United States and the complex cultural and linguistic dynamics we experience across the continent.
These complex cultural interactions that happen in the US are as old as the world's earliest migrations and are as contemporary as the daily occurrences at the US-Mexican border. They create multiple ways of expressing language or, in the words of Díaz: "communities use language to unlock another world, or to transfer from one language to exist in the memory of an old world and a new one." Goldman shared his experiences as the child of an immigrant mother in the 1960s and his confusion about language and prejudice against his accent. According to Díaz, this behavior persists today as he is often told to "go back to Mexico" to write in Spanish.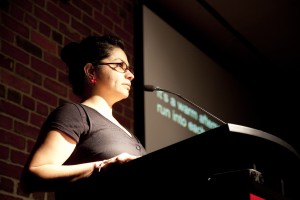 The conversation led into the voice of producer Nancy López and her story "The Stowaways", the journey of Mayer and Mario, two death-defying Peruvians that decide to go by boat to New York. To leave home behind and to a build a new one is the destiny of Rodolfo Pastor, protagonist of Annie Murphy's "Exiles" a story on the young diplomat during the coup in Honduras. In her story, Murphy draws a conclusion on the situation in Honduras: "it seems that people have come to understand violence sort of like bad weather: challenging but ordinary and inevitable." This observation is accurate and conclusive when thinking of "NN", the story told by Annie Correal and produced by journalist Nadja Drost. In Puerto Berrío, Colombia, people adopt and bury the nameless bodies coming to town across the Magdalena River.
Latin American communities not only share the same language. They also share common experiences that deserve top billing in New York, one of the cities with the highest number of accents and Spanish speakers in the United States. Once again, Radio Ambulante Live highlighted the importance of sharing and listening to Latin American stories in order to understand universal human experiences.

At the end of the night, Renato Alarcon's voice —Daniel's dad— proved that a great story, a soccer game and the joy of a goal brings together any community regardless of their language, their pain or their past.