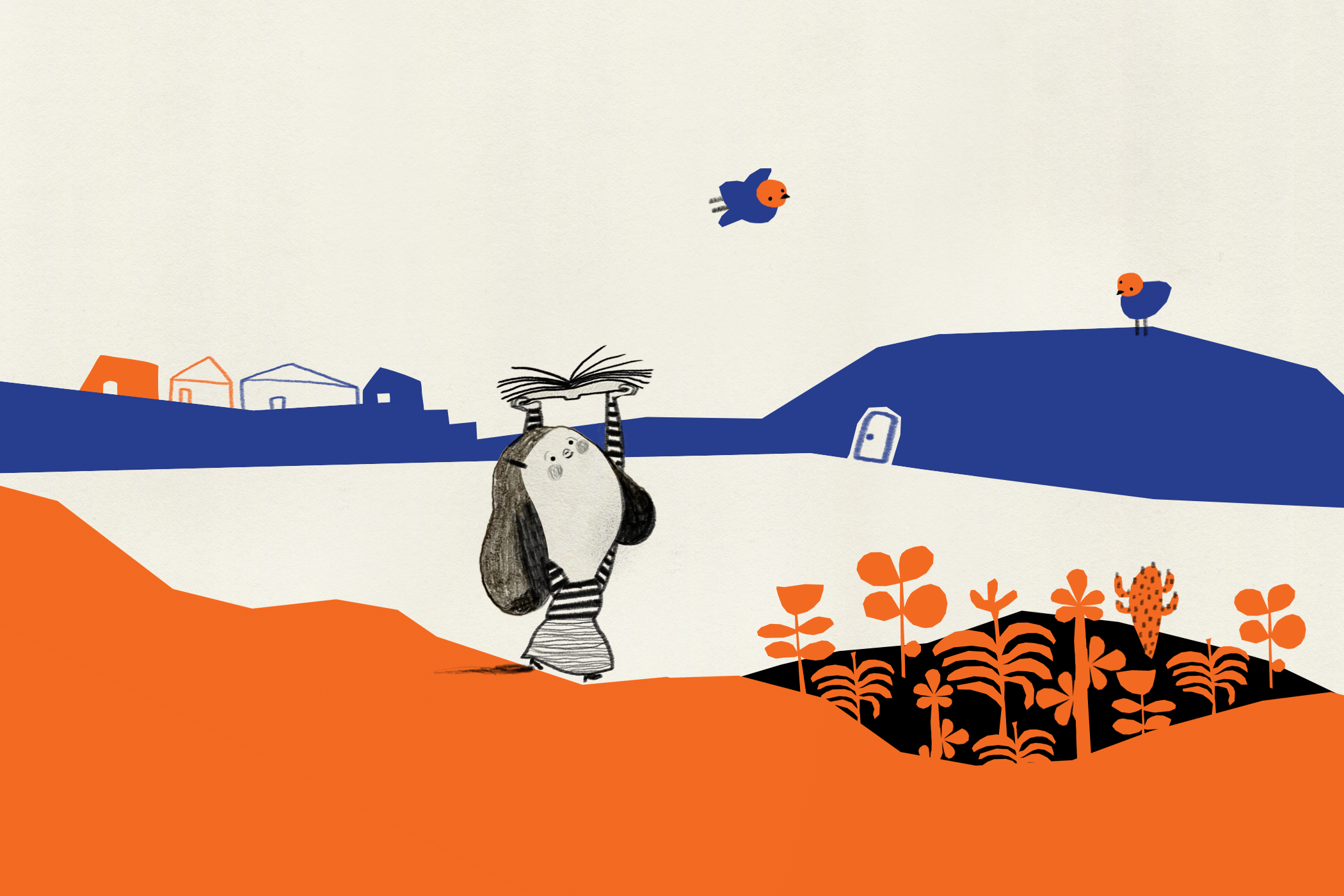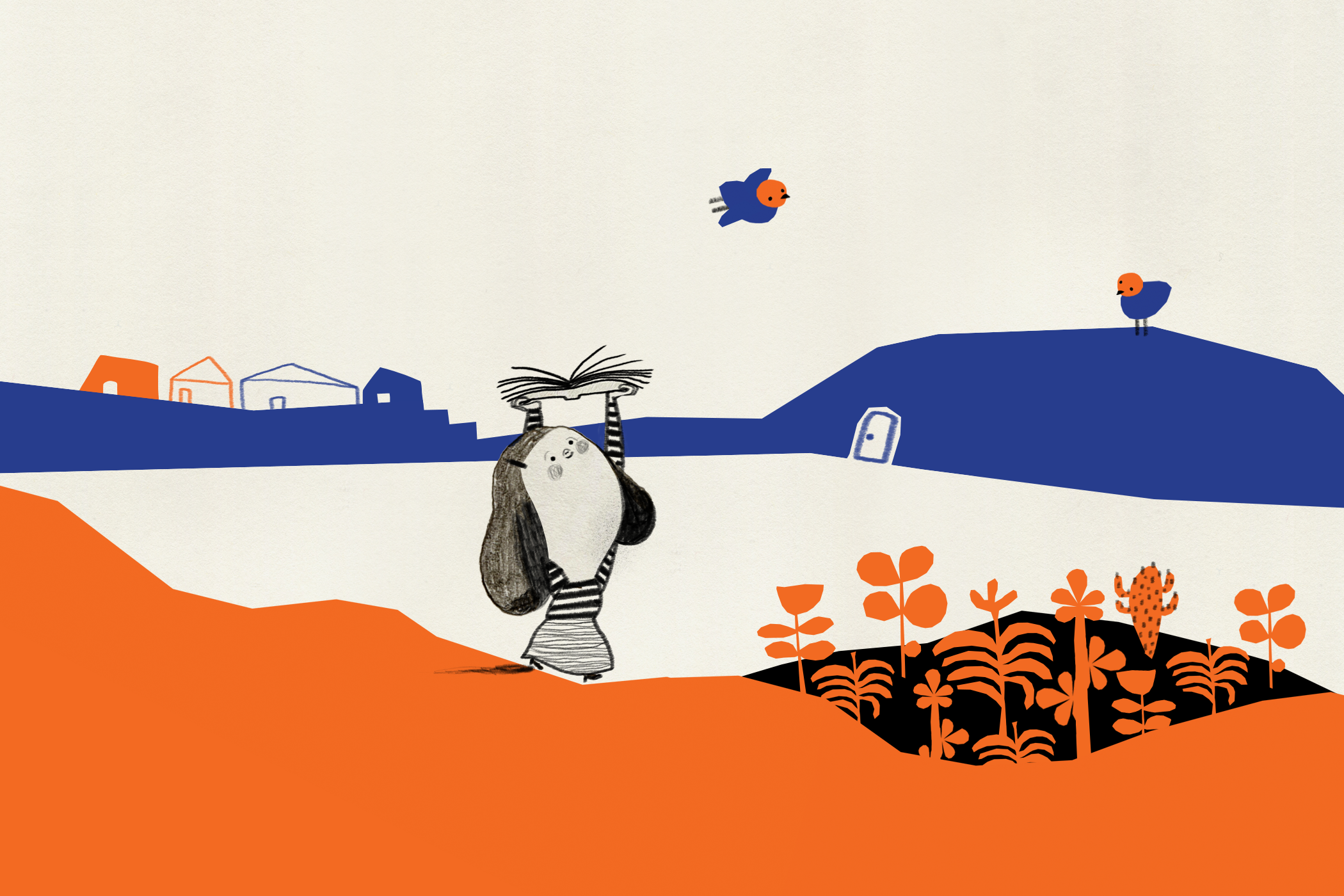 ► Lupa is our new app for Spanish learners who want to study with Radio Ambulante's stories. More info at lupa.app.
► You can read "I will not marry" Spanish transcript here. 
---
[Daniel Alarcón]: This is Radio Ambulante from NPR, I'm Daniel Alarcón. 
Mayra Pop was born in the village of China Cadenas, in northeastern Guatemala, an indigenous community of some eighty families of the Q'eqchi' Mayan people, located within a huge tropical forest surrounded by rivers and mountains.
What she remembers most from her childhood is the sound of the wind and the birds. The walks with her parents to fetch water from the river. Bus trips to a town about two and a half hours away just to place a phone call. Afternoons taking care of her little sister, helping her mother clean, wash, cook. 
It was not very common in her village for girls to go to school. And if they did go, they didn't last long: after a few years of primary school, their parents took them out. Mayra knew this because her mother had told her. Her mother had been allowed to study only up to fifth grade. It was the path that they imposed on all girls.
[Mayra Pop]: Because the only thing I was supposed to do was work in the kitchen and do all the housework, right?. Because the ones who go to school are the men, not the girls.
[Daniel]: It had been like this forever. In fact, when Mayra turned 6 and was asked if she wanted to go to school, she said she didn't.
[Mayra]:  I said, "Oh, I don't want to study, I don't want to go, whatever." I mean, I didn't know what it meant to go to school, right? I wanted to stay home and play, I thought. 
[Daniel]: But a neighbor who worked at the school suggested to Mayra's father that they enroll her in the first grade of primary school. She had not yet turned seven, the age that corresponded to first grade, but they needed one more student to fill the class.
Her dad thought it was a good opportunity. He had learned to read and write in the military, and he realized how useful it was. Besides, the village school was free—he would only have to buy school supplies and pay a small fee for administrative expenses. 
Once the decision was made, Mayra became very nervous . . .
[Mayra]: I cried because I didn't know what it meant to go to school. Because I felt that maybe it would be too difficult. I mean, maybe I wouldn't be able to do it. 
[Daniel]: Her mother walked her to the door of the same school that she herself had been forced to leave years before. Things hadn't changed much since then. When Mayra entered the room, she saw there were only a handful of girls. But at least she wasn't going to be the only one. 
The classes were in Q'eqchi', the only language that Mayra and the other local children could speak. Even so, she had a hard time keeping up.
[Mayra]: Sometimes I didn't even pay attention and sometimes my tongue got stuck . . .  writing, reading . . .  And sometimes I was late to class. Then the teacher greeted me with a ruler . . .  like this, like this. 
[Daniel]: He would scold her and hit her with the ruler. Those first weeks, Mayra spent her time crying at school, but little by little, she began to move forward. She learned many things: how to add, to read, to write, to paint . . . how to say a few words in Spanish. And something during that process began to captivate her.
Before long, school became the center of her life.  
[Mayra]: All I thought about was going to school, just going to school, going to school. Then I no longer cared about home (laugh).
[Daniel]: With every single thing she learned, the world seemed to have fewer limits.
[Mayra]: I dreamed of being a nurse and a doctor, and I dreamed of having a car, a motorcycle, helping my brothers so that they could continue their studies. 
[Daniel]: During the six years that followed, all throughout primary school, Mayra saw her female classmates dropping out from school. One by one, their parents were taking them out, and the desks were left empty. When she was about to start high school, there were only Mayra and five others left. 
And soon it would be four, and then three, and then two . . . 
Mayra knew very well what that meant—many of those girls who left school would be given in marriage to adult men, by arrangements made between the parents. 
[Mayra]: Here in our community, there are many traditions. But there is one I don't like. Forcing a woman at an… at an early age to marry a man.
[Daniel]: It was a practice that occurred in her village and in many other rural areas of Guatemala. Giving girls in marriage when they were as young as 11, 12, or teenagers as young as 13 or 14.
A practice that very few questioned. Until it touched Mayra and she questioned it.
We'll be back after a break. 
[Squarespace]: This message comes from NPR's sponsor, Squarespace, the website builder dedicated to providing its customers with easy-to-use templates designed by professionals. Join the millions of graphic designers, architects, lawyers, and other professionals who use Squarespace to build their online presence. Visit squarespace.com/NPR for a free trial. And when you're ready to launch your page, use the code "NPR" to save 10 percent towards the purchase of your first website or domain.
[Daniel]: We're back on Radio Ambulante. Our producer Lisette Arévalo picks up the story.
[Lisette Arévalo]: The first time Mayra had to face the fate imposed on the women of her village was at age twelve. She was eager to start her first year of secondary school, but when it came time to enroll, her dad said no. Supposedly, she had already learned enough. Mayra begged him. 
[Mayra]: "Let me go to school, just buy me notebooks," I said. "No," he said.  "You'd better stay at home," and he left. 
[Lisette]: Her mother's and her former schoolmates' stories were now happening to her. 
[Mayra]: So, I want to die because I don't want to be in the kitchen, right?
[Lisette]: She wasn't just going to sit there and do nothing. Classes had started a month before, so she decided to enroll without her father's permission. She thought that if she got the notebooks and showed up, he would have no choice but to pay the fee they charged at school. 
So, she asked her great-grandmother, who owned a small store in the village, to give her the notebooks on credit, and she went straight to school to ask to be enrolled.  
[Mayra]: I got there and said, "Good morning, teacher." "I want to be in school. I don't know what notebooks you need, but here are all my notebooks." "Oh, that's good," he said, "it's okay, come in because we're about to start class."
[Lisette]: Mayra thanked him and walked in, proud of herself. She would continue going to school, no matter how her dad reacted.
[Mayra]: Pretty daring, right? Like . . .  even if he scolds me, it would be for a good reason, I say.  
[Lisette]: But, to her surprise, when she got home her dad didn't scold her. He just laughed and gave her the money to pay her great-grandmother for the notebooks. 
Mayra had won her first battle.
After the first few months of high school, the classroom became increasingly empty. Of the female students, only she and her cousin remained. Her cousin was 6 years older but was in the same grade. 
When she met up with her former classmates in the village and asked them why they no longer attended classes, they told her their parents would not allow them . . .  and they didn't see what good it would do them to continue, anyhow.
And they preferred to learn other things, such as housework . . . 
[Mayra]: And learn to cook, and learn how to greet their man . . .  how to cater to him. Life is very easy when you have a man, I don't know . . .  "Well, to each their own," I said.
[Lisette]: Mayra had a hard time understanding that—after all, they were already halfway to graduation. But she was also finding it difficult to continue her schooling. When she finished that first year of secondary school, the situation in her house became complicated. The money her father earned was barely enough for her and her two younger brothers, let alone for buying school supplies.
She was told for a second time that she could not continue her studies. But luckily for Mayra, an uncle of hers, Elías, had started working with Fundaeco, a foundation engaged in environmental education and in promoting the rights of women and girls. When she told him that she wanted to stay in school, but her father didn't have the money, her uncle told her that she could get into the scholarship program. 
Mayra accepted. Once again, she had found the way to keep going.
I spoke with Karen Dubois, the director of Fundaeco's program called Healthy and Empowered Women and Girls, and she told me that supporting girls like Mayra so they won't drop out is a priority for the foundation. So, in 2014 they decided to give her a scholarship for her school supplies and any other school-related expenses.
[Karen Dubois]: At the level of indigenous communities, education beyond . . . in some cases, beyond the third grade or primary school, is exclusively for boys.
[Lisette]: According to 2011 data from the National Survey of Living Conditions, the majority of indigenous students in Guatemala do not finish primary school. Boys attend for just over 4 years, on average, and girls barely complete 3. 
There are many reasons for this, related to culture, gender, or poverty.
[Karen]: In some cases, their economic situation makes it difficult for them to continue supporting the education of their girls. 
[Lisette]: Just as happened to Mayra's father. There are many parents like him who work in palm, corn or bean crops, and what they earn is barely enough to survive. And they can't always count on that income.
Those are temporary contracts, where they can earn about 2,200 quetzals—about $280—a month. It is not enough, which is why the wives often have to work also, in other crops. 
[Karen]: And then the older girls are given the task, at first, of providing support or safeguard or care for the youngest girls and boys in the family circle. 
[Lisette]: And of course, babysitting the younger siblings doesn't leave them much time. No time for play and even less for school. And their parents soon begin to give them away in marriage, in many cases before they even reach the age of 12.
In a split second, they go from being girls to becoming mothers. 
 That is one of the issues that Fundaeco began to work on in Mayra's village, giving talks on child, sexual, and reproductive rights.
They spoke to the girls about reproduction, contraception, sexually-transmitted diseases, violence prevention, and ways to report it. They wanted to give them all the possible tools so that they would be the ones to make decisions about their lives and about their bodies. 
Mayra claims that this program opened her eyes to many things. 
[Mayra]: I heard the talks there, so my eyes were opened, you know? I understood how important it is to keep on with my studies . . .  
[Lisette]: Two years passed. At the end of 2016, Mayra was 14 years old, she was going to school, she participated in Fundaeco activities, and her parents supported her. Many of her friends were already married or even had children, but she didn't want that.
[Mayra]: I felt very sad for the girls who went through that because they already had babies and still didn't know how to take care of a baby.
[Lisette]: Mayra had not come up against that yet. But she was just completing her third year of high school and she was three years away from graduating. 
One afternoon she was at home playing with her little brother, when some ladies from her village came asking for her father. He greeted them and Mayra stayed to find out what they wanted. 
That's when she heard the words that she feared the most:
[Mayra]: They began to say . . .  "We come here before you. We know that women and men marry . . .  and join to start a life together. So, my grandson thought it was a good idea for him and your daughter to get together . . ."
[Lisette]: Her grandson . . . a 21-year-old, about 7 years older than she was, someone she barely knew. She had seen him just a few times in her village. Mayra had never, ever, imagined that he might have any interest in her. They weren't dating. They weren't even friends.
[Mayra]: The truth is, I went to my room and started crying, and said, "I hope they won't accept," I said.
[Lisette]: She stayed there, feeling very anxious. 
[Mayra]: And I was desperate and waiting for the answer, when my father came in. 
[Lisette]: She even thought of running away. A few minutes later, her father came into the room and, before Mayra could say anything, he asked her if she wanted to get married. She said no, that all she wanted was to go to school. 
But her father had already made up his mind. He said that he had accepted the proposal and that he would soon be meeting with the boy's parents. Mayra couldn't believe what she was hearing.
[Mayra]: And I said, "Dad, you had already told me that I have to go to school." I reminded him that he had promised. "So I don't know why you're changing your mind and now I'm supposed to get married," I said.
[Lisette]: But he was already convinced that it was the best thing for her. This is Isaías, her father, speaking in Q'eqchi'. 
[Isaías Pop]: (speaking in Q'eqchi')
[Lisette]: He says that joining a 14-year-old girl with a man is a custom that comes from their ancestors. And that there was also the economic situation of the family, because he didn't have the money for Mayra to continue going to school. 
[Isaías]: (speaking in Q'eqchi')
[Lisette]: At that time, Mayra was about to complete the last level of education available in her village. If she wanted to continue and do the last three years of secondary school, she would have to move to another nearby town, and the Fundaeco scholarship would not cover all the expenses. 
Mayra tried to convince him. She said that they could find some other way to pay for her schooling . . .  
[Mayra]: "Yes, dad, but we can figure out a way so you can help me," I said to him. "But I don't want to get married," I told him that night. 
[Lisette]: But her father said no, and he told her again that it was for the best because it was impossible for him to help her. Mayra's mother was about to have another child. And if they were barely making it with the little money that came into the house, with the arrival of a new member of the family it would be even more difficult. 
Mayra getting married meant one less mouth to feed.
[Mayra]: When my dad said, "I don't have the money for your schooling," I felt pain in my chest. At that point, I knew that he was not going to be able to help me. I started to think things through and said, "What can I do to avoid getting married?" 
[Lisette]: She was devastated. She had no idea how, but she couldn't let her father give her in marriage, as had happened to so many others. 
[Daniel Alarcón]: Mayra's battle to decide her own future would be one that no one had undertaken up to that point. And she was willing to do whatever it took.
We'll be back after a break.
[Mid-roll Deambulantes]
[Daniel]: We're back with Radio Ambulante. I'm Daniel Alarcón.
Before the break, we heard how Mayra Pop, a 14-year-old Mayan teenager, refused to be married to an unknown young man.
But it was not in her hands: her father had already decided for her, and she had to find a way to avoid it. 
Lisette continues the story.
[Lisette]: Here we must mention a detail which Mayra's father did not know at the time: Marrying a 14-year-old girl like Mayra had been forbidden in Guatemala for a year. Starting in 2015, marriages of minors under 16 were prohibited by the Civil Code. And teenagers aged 16 or 17 could marry only with the authorization of a judge. The judge had to examine the case and determine if there was a "higher interest" of the minor, although the details of that "interest" were not very clear.
It was a recent ruling, and, according to Mirna Montenegro, from the Observatory for Sexual and Reproductive Health of Guatemala, even today many indigenous communities don't know about it or don't obey it. Some parents make agreements between families to join their daughters with older men and legalize the union once they turn 18. Deep down, there is the old idea that after a certain age it will be difficult for a young woman to find a husband. The sooner she gets married, the better. And there is also no control or criminal sanction for parents who allow the marriage. The only thing the ruling does is to prevent the marriage of minors from being added to the National Registry of Persons.  
All over the country, there have been cases of girls from age 11 who have been given into marriage or forced unions. Although there is no exact figure, the NGO Girls Not Brides has observed that in Guatemala 30% of women are married before the age of 18, the majority to older men. The youngest men may be in their 20s, but others are in their 40s or older. And these girls get pregnant fast. Between January and April 2021 alone, there have been 640 births by girls between the ages of 10 and 14, and almost 24 thousand between the ages of 15 and 19.
But Mayra did not want to be another number. And her only hope, at that moment, was that her grandparents would not agree to the decision. After all, consulting with the elders about the life and marriage of the children was a very important tradition in their culture.
When her two grandfathers came to visit a few days later, Mayra was eager to know what they were going to say. When they saw her, they asked her directly whether she wanted to get married or not. And she repeated the same thing: No, she did not want to. She wanted to continue her studies. But her maternal grandfather replied . . . 
[Mayra], "The thing is that girls don't go off to study but to look for a husband, and they end up pregnant, and that's it. That's what women do." 
[Lisette]: Her paternal grandfather, on the other hand, said that he didn't agree with the decision and that he supported her. He didn't want her to drop out of school. But his opinion didn't matter too much. Nor did Mayra's desperate pleas. Her father's decision remained firm. 
[Mayra]: But my dad never understood, and he said, "I'm in charge here, not you. So, I'm your father and you have to do what I say."
[Lisette]: Her mother didn't step in. She just cried and told Mayra that she couldn't help her, because she didn't have any money or a job. 
Three days later, the parents of the future husband went to her house. Mayra's father told them that he accepted the marriage and they agreed that in a few days they would organize a meeting. At that point, Mayra hardly ever left her room.
[Mayra]: I was desperate, sad. I didn't know what to do. Sometimes I ate, sometimes I didn't, I just helped my mother make tortillas and then I went back to my room, where I stayed locked up, and sometimes I didn't even eat. I spent the days crying. 
[Lisette]: But the day her parents had planned to meet her suitor to formalize the marriage, Mayra had a small stroke of luck: Her mother went into labor and the visit was canceled at the last minute. 
That gave her time to think of a plan: She would go to her uncle Elías, the one who worked with Fundaeco, and beg him to help her. 
When she was on her way to see him, she met up with him on the street. This is Elías:
[Elías], "Hello, Mayra," I said. So . . .  And Mayra came over and hugged me and she began to tell me what was happening in her life. 
[Mayra], "Uncle," I said, "do you know what is happening to me? Well, my father is forcing me to get married."
[Elías], "Oh, but what do you have to say?" I asked her a question, right?
[Mayra], "I don't want to get married," I told him. "All I want is your support, I need your support. I don't know what to do," I said.
[Elías], "What do you mean?" I said. "If you don't want to do it, then nobody can force you." 
[Lisette]: Mayra cried and asked him to help her. After all, he had gotten a scholarship for her when they wanted to get her to drop out of school. And he had also done it for other children in the community. But since some had left their studies halfway through, her uncle asked if she was completely sure that she was not going to quit. If he intervened, she couldn't change her mind halfway through.
[Elías], "I won't," she told me. "I am going to keep my word."
[Lisette]: Elías said that he was not going to go straight to her father, because he didn't want to cause a family conflict. Instead, he would talk with the social workers at Fundaeco to try to find a solution. 
And he told her to prepare for it . . .  
[Mayra]: My uncle said, "If you want to continue your studies, you pack your bag and then you run away and go with the social worker and stay there," he said. 
[Lisette]: A few days later, two Fundaeco social workers went to Mayra's house. It was early in the morning, and since her father was out working, one of them, who knew Q'eqchi', spoke with the mother and the grandmother. She explained that, by law, they could not have her marry because she was only 14 years old. 
Her mother and grandmother agreed, but believed that there was not much they could do—the mother had also been forced to marry without her consent.
Men had always made those decisions about their lives. 
Later, when her father arrived, one of the social workers spoke to him and told him that they were looking for a way to finance her studies, and begged him to not force her to get married. Her father said that he would think about it, without committing to anything.  
The conversation ended there. Mayra cried and asked the social workers not to leave her alone. They told her that for the moment they could not do much more and asked her to remain calm, saying they would do everything possible so that she would not be forced to get married. 
But one thing Mayra did not have was time for waiting. 
Soon the day came for her suitor's visit. He knocked on the door of her house, along with his family. Her father ushered them in and they began to arrange the details of the marriage, as if nothing had happened.
When Mayra saw what was happening, she ran out of her house to borrow a cell phone and call Fundaeco. She had to climb a nearby hill, to see if she could get a signal . . . 
[Karen]: Mayra managed to get reception to call us from a phone and said, "Come, because they want to hand me over." That's why we decided that it would have to be approached from the Office of the Attorney General of the Nation.
[Lisette]: That's Karen, the director of the Fundaeco program we already heard from. They had no other option. They had to go legal.
That same day, a team from the NGO went to the Attorney General's Office and spoke with the delegate from the department of Izabal, where the village is located. It had been almost a week since Mayra asked her uncle for help. They had to act fast. So the delegate contacted the Juvenile Court, to see what legal path they could follow to help Mayra. 
And the path was clear: someone from the Attorney General's Office had to go, together with the Police, and get her out of her house. They wanted to warn her so that she would be ready.
But in Mayra's village there was no phone signal . . . 
One morning, a few days later, Mayra was at home doing the laundry when her uncle Elías's wife arrived. 
[Mayra]: She told me, "Mayra, they're looking for you." "Who?" I asked. "The police are there," she said. "Where?" I asked. "With your grandmother. There they are," she said.
[Lisette]: Mayra did not understand what was happening.
[Mayra]: I finished and put away all the wet clothes, then I went with my grandmother and saw the police were there, and I wondered, "What's up, what's going on?" I was pretty surprised. 
[Lisette]: Mayra's parents and grandparents were outside the house, worried. Neighbors began to gather to watch. That's when the delegate from the Attorney General's Office, who spoke Q'eqchi', approached Mayra and explained that they had initiated a lawsuit on her behalf, against her parents, for not respecting her right to education and forcing her to get married. And they had to notify her case to the Juvenile Court. Therefore, she would have to go with them to do the legal process at the court in Río Dulce, an hour and a half away from the village, and her father would have to come with them. 
[Mayra], "Well," I said, I mean, it's okay for them to do it, right? So . . .  But I was very confused and I didn't even understand . . .  I was in a different planet. I was lost.
[Lisette]: Mayra's father says he got scared.
[Isaías]: (Q'eqchi') [It scared me a bit because I didn't know what it was all about, but then they explained what was happening. So, I decided to go to the judge and explain what was really happening, because I didn't even know that such a thing existed, that underage girls could not marry.]
[Lisette]:  He claimed that he didn't understand what was happening and he didn't know that it was forbidden for minors to marry. And when they explained that he should go to court to clarify everything that was happening, he agreed to go. 
So he left his house and got into the police car with his daughter.
When they got to the courthouse, the judge asked them some questions to open the case and notified the Juvenile Court. They were given a date to appear in court in Puerto Barrios, about two and a half hours from their village. And although no sentence was passed on his case at that time, with the legal process now open, they could no longer hand her over. 
Mayra had won another battle.
It was early January 2017 when Mayra—who had now turned 15—, her father and her grandfather went to Puerto Barrios to testify. 
Mayra had to go in alone to testify before the Juvenile Court judge. Sandra Portela, one of Fundaeco's social workers, spoke with her and told her that that moment was decisive for her future. This is Sandra: 
[Sandra]: I told her not be shy, because at that time Mayra was still a bit shy, despite the progress she had made; but now it was important for her to express what she wanted. 
[Lisette]: Mayra nodded and entered the room where Judge Mario Najarro asked her the same question that had been asked several times: Do you want to get married?
And her answer was the same: 
[Mayra]: No. I told him that my dream was to go on studying and move on. That is the happiness that I wish for, I told him.
[Mario Najarro]: Mayra was very committed, and the goal that she wanted was firm. That impressed us and we knew that she had potential, you know? 
[Lisette]: This is Judge Najarro, who later spoke separately with Mayra's father, and asked him why he was giving his daughter in marriage.
[Isaías]: (speaking in Q'eqchi')
[Lisette]: Isaías repeated what we have already heard: that he hadn't gone to school, that his job was not stable, that he didn't earn enough money. And that, furthermore, it was an ancient custom. That this was how they lived in their community. 
The judge also spoke with Mayra's paternal grandfather, the one who had not supported the marriage. He wanted to know if he could take care of his granddaughter, in case he had to take her from her parents' house.
An hour into the hearing, the judge brought the parties together to announce his final decision. And it was blunt: Mayra's parents were violating her fundamental rights.
[Mario]: Which ones are those? The right to freedom, to a childhood as such, to enjoy her childhood, not to have commitments or to develop obligations in that environment. Her education, her protection as a child, right? Not being subjected to jobs and activities that are not in accordance with her status as a child, right?
[Lisette]: Judge Najarro explained that since there is no sanction in the Guatemalan penal code against parents who give their daughters into forced unions, it was not possible to carry out a criminal proceeding against Mayra's parents. That is why her case was legally processed as a violation of her rights as a child and of her life project.
Najarro says that very few girls or teenagers seek justice. 
[Mario]: They do not report anything, they do not seek state support. Instead, they simply run away and seek better luck or better opportunities outside their community. For example, working in the manufacture of tortillas, in domestic trades, and sometimes they are even victims of human trafficking. So not all of them have the same luck, or good luck, as in the case of Mayra, you know?
[Lisette]: The judge ruled that Mayra should be separated from her parents and handed into the custody to her paternal grandfather. In addition, he ordered psychological support for Mayra and sent her parents to a state school for parents, where they would receive parenting tools. Finally, he said that Mayra should continue going to school. 
Mayra's father was very pale, very serious, throughout the entire hearing, and he didn't say a word. On the other side of the courtroom, Mayra couldn't stop smiling. 
[Mayra]: At that moment I felt and said, I am free, thank God. I was very excited and happy. I smiled like I never would have smiled because I won everything I wanted.
[Lisette]: Although her grandfather was given custody, Mayra preferred to continue living with her parents. She no longer felt at risk. She felt reassured that, by law, they could no longer make decisions about her life. But the first days after going to court, the atmosphere was very tense at home.
[Mayra]: And my father got pretty mad, pretty mad at me and yelled at me, because I hadn't listened to him, because he wanted me to do what he had told me. But I didn't care because deep down, I knew that I was free. 
[Lisette]: But her father's anger was short-lived, and as the weeks went by, he forgot about it. Those who couldn't let it go were her suitor's relatives. They were upset with her and told her, as soon as they got a chance, that she would never manage to graduate from school. 
Also, many others in her village criticized her decision. At first it affected her, but over time she learned to ignore the comments.
[Mayra]: Well, I don't care what they think or what they do. The only thing I wanted was to keep on going to school and who knows, to have a good future, and to meet other girls, my classmates and all that.  
[Lisette]: The thing is that Mayra knew that soon her life would be very different. A few months earlier, while the legal process was unfolding, she had passed an entrance exam for an institute called Ecological School. It is in San José, a city larger than her village, about three hours away. In addition, she had been awarded a scholarship and she would continue to receive help from Fundaeco for her supplies. 
Sandra, the social worker, told me something that surprised me. She said that, although Mayra's father was angry at his daughter for a while, when they were in court, he approached her and said: 
[Sandra], "Thank you, Sandra, for helping us, by opening our minds and all." The man was very grateful. 
[Lisette]: I asked Isaías, Mayra's father, why he changed his mind and he told me that, little by little, he realized that it was the best thing for his daughter.  
[Isaías]: (speaking in Q'eqchi')
[Lisette]: He claimed that Mayra's determination to go to school in another town and even to buy her own supplies convinced him.
[Isaías]: (speaking in Q'eqchi')
[Lisette]: Then he realized that studying was truly her dream. 
It was February 2017, and Mayra packed her bags. She was nervous—this was the first time she would be separated from her family and live outside her village. But she was also excited for what was to come.
She said goodbye to her mother and her brothers, and left the house with her father. They went to San José together, on a ride paid by Fundaeco, accompanied by her uncle Elías, his wife and Sandra. When they arrived at the Ecological School and Mayra settled in what would be her room, she and her father had a hard time saying goodbye. Despite everything, it was difficult for them to separate. 
He left and she stayed there, waiting for her new life to begin.
But, although she had managed to continue her studies, the first year at the Ecological School was not easy. Scholarship money was barely enough for supplies and she had almost nothing left to buy food with. In addition, now she had to learn to speak Spanish well, because all the classes were in that language. She was overwhelmed. She even thought of returning to the village. 
But when her new classmates heard that she wanted to leave, they offered their support. Some bought supplies for her, and others talked to the institute's food provider to help her with the food. The person in charge of the cafeteria offered her a deal: she would clean the kitchen and wash the dishes in exchange for food. So, little by little, Mayra got used to her life far from home. 
During that first year, she began taking English, philosophy, and physics. They were new subjects for her and they were difficult, but with time she began to catch up. She was also taking classes in environmental engineering, the institute's specialty. There she learned techniques to sustainably manage forest resources in tropical regions. And what she liked most were the field trips, where they traveled through forests, learned about trees, and saw animals that reminded her of her days back in the village. 
Some weekends, she traveled to visit her family, although most of the time she was in the institute residence, alone but happy.
About two years later, graduation day came. It was a morning in December 2018. White and electric blue drapes hung from the ceiling of the gym. During the ceremony, Mayra and eight other schoolmates of hers walked, one by one, to receive their high school diploma. 
Sitting in plastic chairs, Mayra's parents, her three siblings, and Karen, from Fundaeco, watched her graduate. It was a very emotional moment for everyone. They were proud of what Mayra had accomplished. 
In the photos of that day, she is seen with a huge smile and bright eyes, holding her diploma.
[Mayra]: I was very happy because I thought, "Such an effort I had made, until I finally managed to graduate." But I said, I still have to finish my degree, right?
[Lisette]: Because Mayra had already made a decision: school was not enough for her. She was going to go on to the university. And she was accepted in forestry engineering, the study of sustainable tree management, at the Rural University of Guatemala. 
When she visited her village and met her friends . . . 
[Mayra]: Some said to me, "Mayra, it's great that you graduated, how good. I mean, I would like to be like you, but I can't."
[Lisette]: That is one of the things that matters most to Mayra: for other girls and teenagers like her, in her village or in any other in Guatemala, to know that other alternatives exist. That they can also fulfill their dreams.
[Mayra]: I want girls to be brave enough to say, "Here I am, I want to continue my studies, please help me . . ."
[Lisette]: That they know they are not condemned to a life someone else chose for them.
[Mayra]: We have the right to continue studying; we have the right to dream of something great. 
[Lisette]: Mayra was the first woman in her village to graduate from high school. The second one may be her sister, who is now 16 and is still going to school. 
[Daniel Alarcón]: Mayra continues her studies in forestry engineering. She plans to graduate in 2022 and her dad is planning to throw a celebration party at his house.
In 2017, Guatemala expanded the ban on child marriage. Now the union of anyone under the age of 18 is illegal, with no exceptions. Although, in practice, it has not stopped happening.
Lisette Arévalo is a producer at Radio Ambulante and lives in Quito, Ecuador. 
This episode was edited by Camila Segura, Nicolás Alonso and me. Desirée Yépez did the fact-checking. The sound design is by Andrés Azpiri and Rémy Lozano, with original music by Rémy. 
The rest of the Radio Ambulante team includes Paola Alean, Aneris Casassus, Xochitl Fabián, Fernanda Guzmán, Camilo Jiménez Santofimio, Jorge Ramis, Laura Rojas Aponte, Barbara Sawhill, David Trujillo, Elsa Liliana Ulloa and Luis Fernando Vargas. 
Emilia Erbetta is our editorial intern.
Carolina Guerrero is the CEO.
Radio Ambulante is a podcast by Radio Ambulante Estudios, and it's produced and mixed on the program Hindenburg PRO.
Radio Ambulante tells the stories of Latin America. I'm Daniel Alarcón. Thanks for listening.