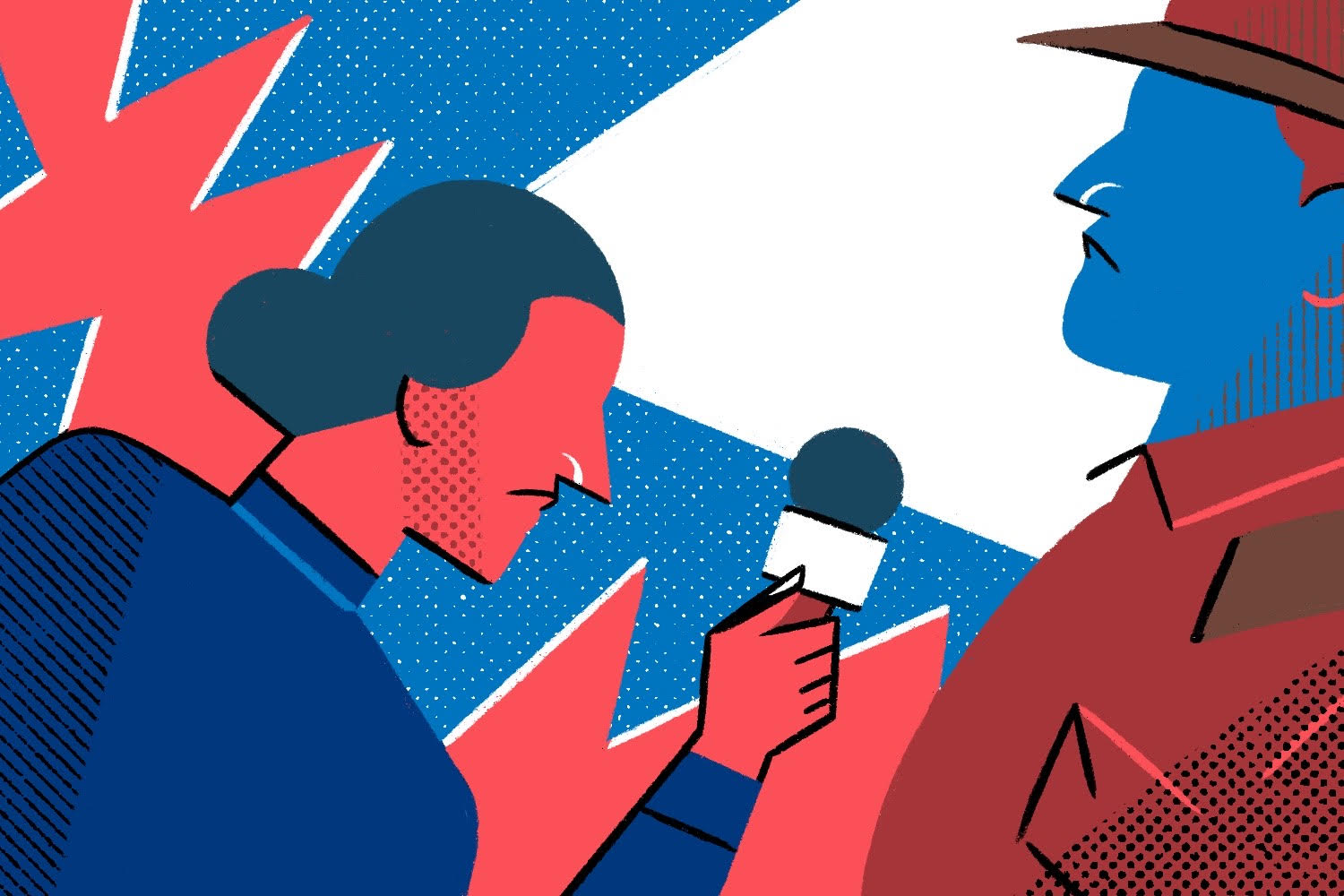 We Interrupt This Broadcast – Translation
► Lupa is our new app for Spanish learners who want to study with Radio Ambulante's stories. More info at lupa.app.
---
 [Daniel Alarcón, host]:  Hi, ambulantes.
I hope you are well. You don't need me to tell you that we're living through complicated, even surreal, days. Each country is different, of course, but I think right now we're united by a sense of anxiety, concern, and uncertainty.
Here, on behalf of the whole Radio Ambulante team, first we want to thank doctors, nurses, and all public healthcare professionals, who are on the front lines against COVID-19. Our respect and profound admiration. You are the brave ones. 
And all of us who are locked in depend on those who work in supermarkets, those who do home deliveries, those who are keeping us supplied. Thank you. 
Hopefully governments and citizens will listen to the scientists, the experts, and will do everything possible to cushion the impact of this virus. It depends on all of us too. We are all vulnerable, and we have to rely on and support our community. We have to remember our friends who are alone. Message them. Call them.
We at Radio Ambulante are journalists and, well, for now, what we can contribute are good stories. Some to pass the time, others to learn something. The weird thing is that they all seem to have come from another time. That's not wrong; it's part of the nature of our podcast. We believe that one day we will return to something that seems like normal and, when that happens, we'll be here, telling those stories too. Hopefully that'll  be soon. 
Last week I mentioned that we were about to launch a news podcast. It's called El hilo. I believe that there is no better time for a project like this, when we all need more information, and when timely given information can save lives. Visit elhilo.audio and listen to the end of the episode for the official trailer.
In the meantime, please take care.
OK, here's the story.
Welcome to Radio Ambulante from NPR. I'm Daniel Alarcón. At the center of today's story is this woman:
[Lucía Pineda]: I'm Lucía Pineda Ubau. I'm a journalist.
[Daniel]: Lucía was born in Nicaragua. She's had a more than 20-year career in journalism in that country and she's worked at some of the largest news organizations covering politics.
[Lucía]: The National Assembly, the presidency, uh, the Supreme Court, a lot, well, also, uh, topics like investigations into corruption.
[Daniel]: Among Nicaraguans, Lucía is known as "La Chilindrina," just like the character on El Chavo del Ocho. They call her that for being insistent, stubborn, as they say in Nicaragua.
She got the nickname in 1997, when Arnoldo Alemán took office as president of the country and the news team where Lucía worked…
[Lucía]: Well, we started working, asking questions about… about the goods that he was, well, being seen with at that time, right after he took office. And I remember once I asked about the issue involving some trucks.
[Daniel]: The issue was this: the president already had vehicles to get around, but the government decided to buy two more trucks, a use of public funds that Lucía saw as unnecessary. So, she asked Alemán…
(ARCHIVAL SOUNDBITE)
[Lucía]: But where, who gave you that money, those funds? Who… who authorized that?
[Arnoldo Alemán]: From the budget for the Presidency of the Republic.
[Lucía]: So, he… he, well, told me that… that I was very naggy, like this Chilindrina.
(ARCHIVAL SOUNDBITE)
[Arnoldo Alemán]: Here's my Chilindrina. She's naggy. Here's my Chilindrina…
[Lucía]: So in that moment I said: "Answer the question, Don Barriga."
(ARCHIVAL SOUNDBITE)
[Lucía]: But, Don Barriga…
And then we ended up with the nicknames La Chilindrina and… and Don Barriga.
[Daniel]: Don Barriga, another character from el Chavo de Ocho, the man who collected rent from Don Ramón, Chilindrina's dad.
Lucía is known for asking uncomfortable questions. In 1998 she got the then former president Daniel Ortega to reference the claim of sexual abuse that his stepdaughter had made against him.
(ARCHIVAL SOUNDBITE)
[Lucía]: Concerning the sexual scandal that has, well, emerged in this past year against… against you: Is it true that you never laid a finger, well, on that girl, your stepdaughter? 
[Daniel Ortega]: What she has stated is totally false.
[Lucía]: Is she a liar?
[Daniel Ortega]: What she has stated is totally false.
[Lucía]: Yes, but is she a liar?
[Daniel Ortega]: Therefore… therefore she's lying.
[Lucía]: You never raped her?
[Daniel Ortega]: Those are all lies, totally false.
[Daniel]: That's how Lucía's journalism is: direct, uncomfortable, committed to the audience.
[Lucía]: You realize that this is purely a service profession, practically like a ministry.
[Daniel]: For ten years, Lucía has worked as head of press at 100% Noticias, a cable channel with news, interviews, opinion, that sort of thing. A channel that was on the front lines of the confrontations in 2018 when Nicaragua entered one of the most violent social crises in the region.
(ARCHIVAL SOUNDBITE)
[Protestors]: Free country or death! Ask your mother to surrender!
[Daniel]: A crisis that not only resulted in more than 300 deaths, dozens of political prisoners, and thousands of exiles but also profoundly affected Nicaraguan journalism. Suddenly, working in that profession became dangerous, very dangerous. Especially for people like Lucía.
Our editor Luis Fernando tells us the story.
[Luis Fernando Vargas]: It's April 18th, 2018, and a news story put everything in motion. It's a little complicated, but I'll explain it now…
(ARCHIVAL SOUNDBITE)
[Journalists]: The presidential decree published this Wednesday in the official newspaper La Gaceta incorporates eight modifications announced by the executive council of the INSS which increases employer and worker contributions by 3.5% and .75 percent respectively.
[Luis Fernando]: That day an official reform had been made to the Nicaraguan Institute of Social Security, known as the INSS (by its Spanish initials). The reform required workers and employers to pay more into their pensions. In addition, it cut off 5% of pensions for retirees. And the thing is, the INSS runs the risk of falling apart financially in the next few years, so the plan was that these new sources of income would be aimed at keeping the institution afloat.
A large number of Nicaraguans were unhappy with these reforms because they left them with less money in hand. So the same day the decree was published, people took to the streets to protest.
(ARCHIVAL SOUNDBITE)
[Protestors]: Out with Daniel! Out with Daniel!  Out with Daniel! Out with Daniel.
[Luis Fernando]: National and some international media outlets covered the protests. Among them, 100% Noticias, where Lucía Pineda worked. The channel followed the protests against the INSS reform and the opposition —groups of sympathizers with the president at the time Daniel Ortega, who went out to defend the measures taken by the government.
Violence broke out that first day of protests. 100% Noticias, for example, reported that in Managua, the capital, a group of Juventud Sandinista —an organization connected to the Ortega party— used threats and shoving to disperse a protest in opposition to the INSS reforms.
(ARCHIVAL SOUNDBITE)
[Man 1]: Come on. Move!
[Journalist]: I'm a journalist. Don't touch me.
[Man 2]: Easy, easy, easy.
[Luis Fernando]: The channel also reported from the city of León. Again, they were reporting on confrontations between opponents of the reform and government sympathizers.
(ARCHIVAL SOUNDBITE)
[Man 1]: He's hitting me. He's hitting me. He's hitting me.
[Luis Fernando]: And another incident occurred, one that involved 100% Noticias directly.
[Lucía]: We went out —like other outlets— to cover a small protest of about 40 people who were at a location in Managua protesting the INSS reforms, and what caught our attention was the arrival of a group of masked counter protesters from Juventud Sandinista.
[Luis Fernando]: It was about 30 men with their faces covered. You could tell there were from Juventud Sandinista because of the t-shirts some of them were wearing. And the men from Juventud…
[Lucía]: Beat the protestors, beat foreign and national journalists.
[Luis Fernando]: At least eight people were wounded.
[Lucía]: And they robbed the protestors and journalists. They stole one of our live TV cameras.
(ARCHIVAL SOUNDBITE)
[Woman]: Look…
[Man]: They stole the camera. See?
[Woman]: Look! They're the Juventud…
[Luis Fernando]: That night, the director of 100% Noticias, Miguel Mora, gave a live broadcast in which he talked about what had happened.
(ARCHIVAL SOUNDBITE)
[Miguel Mora]: The government and the national police are responsible for the safety of our journalists and technicians and camera operators, for the safety of our channel. I hold the Juventud Sandinista 19 de Julio responsible for the loss, theft, and damages or any harm that may have been inflicted on our fellow journalists and camera operators.
[Luis Fernando]: Here I want to mention that I tried to speak to Miguel for this story, but he didn't answer my calls or messages.
But well, things didn't stop with the robbery. The following day, April 19th…
[Lucía]: We were censored by Daniel Ortega's government. He ordered the cable provider to take our signal off cable. And the order was given and the cable companies fell in line.
[Luis Fernando]: Three other TV channels were also taken off the air, but they were back to broadcasting the next day. All except 100% Noticias.
This is the director of the channel again, Miguel Mora, in an interview with the Nicaraguan outlet El Confidencial.
(ARCHIVAL SOUNDBITE)
[Journalist]: Miguel, what is the official explanation the authorities at Telcor [The Nicaraguan Institute of Telecommunications and Postal Services] gave you for taking you off the air.
[Miguel Mora]: Officially, they haven't said anything. Unofficially they asked us, in light of the conflicts between marches and countermarches and protests and counter-protests, not to broadcast news coverage. Not to give them… Not to give them due coverage.
[Luis Fernando]: And that's because the confrontations of April 18th were just the start.
The following day, people took to the streets again and this time there were confrontations with the police.
The first three deaths were reported.
Despite not having TV signal, 100% Noticias continued spreading information about the riots on social media. In addition to going out to record what was going on in the streets…
[Lucía]: We did some coverage where the people themselves did the work of documenting the violence, the repression.
[Luis Fernando]: On their YouTube channel, they uploaded videos that people sent them or that were circulating on social media, like this one, in which you hear Juventud Sandinista and the riot police entering the National Engineering University during the protests.
(ARCHIVAL SOUNDBITE)
[Student]: We're taking shelter here inside the UNI [the National Engineering University], and Juventud Sandinista just took over the university.
[Student 2]: Guys, look at us. Share this, please, share this.
[Student]: Share this everyone. Share this.
[Student 2]: We really need help. We need you to share this video, please.
[Luis Fernando]: As the level of violence increased, the protests stopped being just about the situation with the INSS and became an indictment of government repression. A government that for 11 years had had Daniel Ortega at its head, thanks to constitutional reforms that his own party had advanced. 
(ARCHIVAL SOUNDBITE)
[Protestor 1]: The government wants us to see what they want. No! Nicaragua is tired of what they're doing under the table. People are rising up, and when the people rise up, the revolution begins because it's not the '80s. Nicaragua is ignited and we're in pain. We're ready for anything!
[Protestors]: Daniel, Somoza, it's the same thing! Daniel, Somoza, it's the same thing!
[Protestor 2]: We're done with the dictatorship. We're done with Ortega-Murillo. Get out of the country. Let us be free. We dream of a free Nicaragua.
[Luis Fernando]: Meanwhile, the government's attempt to silence 100% Noticias had the opposite effect. It got them a lot of attention. In the days that they were off the air, according to Miguel Mora, the channel reported an average of 300,000 views a day on its social media —much more than they were used to. News of their being censored spread to national and international media outlets. Even the New York Times. Then, on the sixth day…
[Lucía]: Thanks to public pressure, the Catholic Church, private companies, and pressure abroad, we were able to get 100% Noticias back on cable.
[Luis Fernando]: 100% Noticias went back to broadcasting like before but in a very different country. So you can understand the degree to which the violence escalated, nine days after the conflict began, the Permanent Commission on Human Rights of Nicaragua recorded 63 deaths, most of them opponents of Ortega.  And things got worse with every day: more people injured, more prisoners, more deaths.
International organizations asked the government to put an end to the repression efforts.
(ARCHIVAL SOUNDBITE)
[Journalist 1]: The OAS passed a resolution on Nicaragua emphatically condemning violence against protestors and demanding that President Daniel Ortega call an early election.
[Journalist 2]: The UN High Commissioner for Human Rights warned today Nicaragua could have a future similar to that of Venezuela if they do not stop repressing their citizens.
[Luis Fernando]: To stop the violence, Ortega walked back the INSS reform and almost a month later —in May— he sat down to speak with the opposition. But nothing came of it. The country was still burning.
People starting reporting to 100% Noticias…
[Lucía]: That their son had disappeared.
(ARCHIVAL SOUNDBITE)
[Mother]: I want to know where they're keeping him. I need you to help me. He was alive when they took him. I want them to give my son back to me alive.
[Lucía]: People who were saying that their children had been taken prisoner.
(ARCHIVAL SOUNDBITE)
[Mother]: We demand their freedom. Especially my daughter because my daughter works in the duty-free zone. She works every day.
[Lucía]: People who were saying that their children had been killed.
(ARCHIVAL SOUNDBITE)
[Mother]: The police killed my son. He was supporting… supporting the Juventud, right?
[Lucía]: And so we looked like a human rights office, receiving so many reports.
[Luis Fernando]: And so, like a human rights office, 100% Noticias spent the following months receiving reports. They started getting…
[Lucía]: Between 50, more or less, and 100 people a day who came, starting in the morning. I mean, we didn't rest, there were as many in-person reports as there were over the phone, which came into the channel or through WhatsApp.
[Luis Fernando]: Most people didn't file their reports publicly. Out of fear.
[Lucía]: Instead they came to tell us: "This happened, and this. So you know." Right? So what you did to keep the report from staying up in the air was like:  "You should go have it officially documented and continue the legal process with the human rights offices." And we even served as guides for the public, so that it wouldn't get stuck in limbo.
[Luis Fernando]: It was late September, and the government banned street protests, another useless tactic because it didn't stop the confrontations. By October, according to the Inter-American Commission on Human Rights, the number of deaths rose to 325.
But, despite the violence and repression —according to Lucía— the team at 100% Noticias wasn't afraid of the repercussions that could come as a result of the reports they were making against the Ortega government.
[Lucía]: I'm being honest with you: we didn't have time to be afraid.
[Luis Fernando]: They were incredibly busy.
[Lucía]: We always went home to keep working, right? Because people kept calling, kept making reports. So, you couldn't turn off your phone and unplug.  There were days we stayed there until we fell asleep. We would broadcast and they were bombarding, they were suppressing a city. And the morning would come there with the people. They were on the phone, making their reports, and we were there with the people.
[Luis Fernando]: And apparently, Daniel Ortega didn't like that. By November, the police and paramilitary groups were constantly present outside of the station.
One day Lucía went out with a camera to ask them what they were doing there.
(ARCHIVAL SOUNDBITE)
[Lucía]: What is the objective of your presence here, near 100% Noticias?
Why are you here at 100% Noticias?
[Luis Fernando]: None of the officers responded.
Then, in early December one car in particular was positioned outside of the channel at all hours, taking pictures of people going in and out. This is Lucía, talking to the press in front of the car.
(ARCHIVAL SOUNDBITE)
[Lucía]: These acts of intimidation are not going to change 100% Noticias's position, which is to stand beside the people of Nicaragua in this struggle, right? The struggle they've been in for eight months now for justice and the democratization of the country.
[Luis Fernando]: But December 21st, 2018 arrived.
[Lucía]: I had just finished work. We had been living at the station for about 20 days: Miguel Mora, his wife, Verónica Chávez, and myself. And I had gone up to the second floor, well, since that was where we met after work. I went up to the second floor and said to Miguel that it had been a very tiring week. It was a Friday. "Yes," he says, "a lot of activity, right?" "Yes," I say, "a lot of activity. Something has to happen already." As if saying: this has to stop now. And unfortunately, it happened to us.
[Luis Fernando]: It was almost 9 p.m.
[Lucía]: Then the cable went out. So people started telling us: "There's no cable. There's no cable. 100% Noticias isn't on cable."
[Luis Fernando]: Lucía went down to the control room, where they keep all the machines that allow them to broadcast the channel.
[Lucía]: And in the control room, well, technically it looks as though we're fine. I put the channel on Facebook, the broadcast, and, at that moment, afterwards, I hear sounds coming from the second floor. Miguel's wife, Verónica, calls me and tells me, well, she's crying that the police are coming in and are breaking the windows on the second floor, and I started presenting the breaking news.
(ARCHIVAL SOUNDBITE)
[Lucía]: 100% Noticias is being practically surrounded, attacked by anti-riot police. Please, please, this is an alert, and please help us tweet to the viewers, to colleagues. This is an emergency. They want to unjustly take our director Miguel Mora prisoner.
[Luis Fernando]: Lucía was full of adrenaline…
[Lucía]: I was breathing a little faster, a little scared. And, well, but still, I had to tell people so they could know what was happening to us.
[Luis Fernando]: After presenting the breaking news, Lucía went to the second floor to record a video of the anti-riot police entering. She was about to make it to the channel director's office when she saw a police officer, so she went back down…
[Lucía]: And I hid under the stairs. Under the stairs, there, I, well, made one… one last update on WhatsApp.
(ARCHIVAL SOUNDBITE)
[Lucía]: Urgent, urgent. Anti-riot police here outside of 100% Noticias. There are paramilitary soldiers here on the second floor. We're reporting at the moment…
[Luis Fernando]: The audio cuts off there. Lucía sent it to several contacts and went out from under the stairs when she stopped hearing noises.
[Lucía]: And a police officer shined a flashlight on me. It was totally dark, and I said to him: "Hello!" And he said: "Hello!" And he leads me out and puts zip ties or handcuffs on me.
[Luis Fernando]: The anti-riot police also arrested Miguel Mora, the channel's director, and Verónica Chávez, the executive director, and Miguel's wife.
They took Miguel in one squad car and they put the women in another.
[Lucía]: And the police said that the women were going  home. In other words, there was no arrest warrant for me.
[Luis Fernando]: Miguel was taken to el Chipote, a notorious prison that served as a torture center during the Somoza dictatorship. And which had become a prison for the dozens of people who had participated in the protests.
The women were 50 meters from Verónica's house when the police changed course and drove toward El Chipote.
Verónica was detained for a few hours, but for Lucía, things were different.
[Daniel]: We'll be back after the break.
[Pop Culture Happy Hour]: There's more to watch and read these days than any one person can get to. That's why we make Pop Culture Happy Hour from NPR. Twice a week we sort through the nonsense, share reactions and give you the lowdown on what's worth your precious time. Listen to Pop Culture Happy Hour Wednesdays and Thursdays.
[Wait Wait Don't Tell Me]: So you're listening to this NPR podcast because you want to be informed.  You want to learn something. But what if you need a little break? Then you want to check out Wait Wait Don't Tell Me, the NPR News quiz.  It's the show that lets your lizard brain enjoy yourself for once. You can be serious again later. Wait Wait Don't Tell Me from NPR. Listen Fridays.
[Daniel]: We're back with Radio Ambulante. I'm Daniel Alarcón. Before the break, we heard how, after months of reporting on the repression carried out by Daniel Ortega's government, the channel 100% Noticias was invaded by anti-riot police. Miguel Mora, the channel's director, and Lucía Pineda, the head of press, were arrested. They were taken to the El Chipote prison, which had become the detention site for hundreds of people during the crisis. 
Luis Fernando continues the story.
[Luis Fernando]: The Nicaraguan Institute of Telecommunications and Postal Services issued a statement. It said that 100% Noticias was not permitted to broadcast after December 21st at 9 p.m. But the statement didn't give any justification for why the police broke into their facilities and arrested their director and head of press.
The day after their arrests, the Public Ministry accused Lucía and Miguel under the Nicaraguan Penal Code of —and I'm quoting here— "crimes of provocation, solicitation, and conspiracy to commit acts of terrorism."
At first, Lucía was held in a cell with other women. It was a small, dark space with a skylight, but she wasn't there for long. After a few days, they moved her to another cell.
[Lucía]: They took out the prisoners who were there, who were three men, and they separated me from that group of women and sent me to that cell on my own.
[Luis Fernando]: A similar place: dark, small, with a clogged toilet, almost overflowing. According to Lucía, the police…
[Lucía]: Knew that it was overflowing. I told them it was, but they didn't listen to me. Then they brought a group of women to the cell and by then the situation was untenable. And they did it as a kind of torture, because they knew the toilet was overflowing.
[Luis Fernando]: It wasn't until the International Red Cross came to survey the prisoners' living conditions that Lucía could report the situation. She got them to move her and her fellow prisoners to a cell with a working toilet.
Lucía also had food poisoning at El Chipote. She says that they put something in her food to make her sick.
[Lucía]: I threw up; I was nauseous constantly for a week.
[Luis Fernando]: Interrogations were an almost daily occurrence. Lucía says that one week she was interrogated more than 30 times. They asked her about 100% Noticias' coverage of the confrontations.
[Lucía]: They held us responsible since we — according to them, right?, according to them, according to Daniel Ortega's police — journalists had taken a match to the country, had incited violence and all that.
[Luis Fernando]: They called her a conspirator, terrorist, and a liar. According to Lucía, the police tried to manipulate her.
[Lucía]: They tried to turn me against the director. "Defend yourself. Save yourself." But, what I'm I going to save myself from? If we were doing our jobs as journalists.
[Luis Fernando]: Lucía spent 40 days in El Chipote and was then transferred to La Esperanza, a women's prison. A place where the conditions were a little better.
[Lucía]:  First they had me in a few small rooms that they had for conjugal visits. Small. It has… it had its own bathroom. Then they moved me to another room. That one had windows, but you couldn't open them. There were a few holes in the tiles that birds could come through. You could see, well, the sky a little.
[Luis Fernando]: But in another way, the situation was much worse than it was at El Chipote: they kept her isolated.
[Lucía]: I couldn't have contact with regular inmates or political prisoners. I spent it, well, practically in silence. They put the weight of silence upon me.
[Luis Fernando]: They didn't allow her to read books or attend occupational therapy sessions or Mass or religious services either. They only took her out of confinement for 20 minutes a week to get sun and family visits were every 15 days.
[Lucía]: No one deserves to be isolated the way I was.
[Luis Fernando]: Lucía's faith was what kept her standing.
[Lucía]: I talked to God a lot and that was what filled me up and gave me the fortitude and the strength to bear it.
And me, my case… that case they fabricated, that case that they fabricated against 100% Noticias and that repression the government maintained and continues to maintain against the people of Nicaragua, and against journalists, I said: "I'm handing this burden over to you, God. You take charge of this," you know?
[Luis Fernando]: Lucía had been in prison for two months when it was time for new negotiations. This time between the Ortega government and the Alianza Cívica por la Justicia (The Civic Alliance for Justice), an organization that was formed after the start of the protests in April 2018. The Alianza is made up of students, farmers, academics, and representatives of the private sector, among others.
The point of the dialogue was to put an end to the repression and convince the president to call early elections. But this time, the talks were conditioned on the government freeing the people who the Alianza considered political prisoners, in other words, all the people who had been jailed for protesting against Ortega since the conflict started 11 months earlier.
And by the end of March 2019…
(ARCHIVAL SOUNDBITE)
[Journalist]: Alianza Cívica and the government agree to free all political prisoners within three months.
[Luis Fernando]: The initial list consisted of 232 prisoners, and there was a lot of international pressure.
(ARCHIVAL SOUNDBITE)
[Journalist]: The Organization of American States demands of Nicaragua the unconditional release of all imprisoned protestors.
[Luis Fernando]: The government started the release little by little. Fifty people on April 5th, 18 on April 16th, 100 on April 20th, another 50 on May 30th. La Alianza broke off the talks several times to pressure the government to free everyone.
(ARCHIVAL SOUNDBITE)
[Journalist]: As long as not all of the political prisoners are freed and their constitutional rights and protections are not restored, Alianza Cívica will not return to the negotiation table.
[Luis Fernando]: And the international community started talking about getting involved.
(ARCHIVAL SOUNDBITE)
[Journalist]: The issue of human rights in Nicaragua is back on the agenda for the European Parliament, where deputies have discussed sanctions against the Daniel Ortega government.
[Luis Fernando]: And in June, with two weeks left to meet the agreed-upon deadline to release all the prisoners, there were still 182 people in prison.
So, with all this international attention and pressure from Alianza Cívica, the government decided to act, but not in the way you'd expect. On an emergency basis, deputies from the Frente Sandinista de Liberación Nacional —the pro-government party— introduced an amnesty law. A pardon law, which is to say that no one was innocent according to the Ortega regime.
On Saturday, June 8th, 2019 the congress voted.
(ARCHIVAL SOUNDBITE)
[Deputy]: Fifteen opposed.
[Deputy 2]: Fifteen? Only fifteen?
[Deputy]: Zero abstentions. Three present. The amnesty law is approved.
[Luis Fernando]: Seventy votes in favor of the amnesty law, all from the Frente Sandinista. There were only 15 votes against it, all from the Partido Liberal Constitutionalista, a center-right party.
Even though at first glance it seems like an amnesty law was a good way to put an end to the conflict, a lot of people were opposed. And that's because, for example, it prevents an internal investigation into violations of human rights the government committed. Besides, it doesn't exonerate the prisoners of their alleged crimes, it just pardons them. And if one of them commits the same "crime" —in quotes— that they were accused of, they'll be sent back to prison.
This is how Lucía explains it.
[Lucía]: In order to avoid having internal trials, they created an amnesty law. So a lot of people say it's a self-amnesty law: it gives amnesty to them and to all of us innocent people who were in prison.
[Luis Fernando]: Alianza Cívica rejected it outright. This is Azahalea Solís, a representative of la Alianza.
(ARCHIVAL SOUNDBITE)
[Azahalea Solís]: The amnesty law introduced as an emergency bill in the National Assembly does not comply with the American Convention on Human Rights that was signed and ratified by the state of Nicaragua since it prevents investigations and sanctions against those responsible for serious violations of human rights. Crimes against humanity cannot be subject to amnesty nor can they expire.
[Luis Fernando]: But for the Sandinistas, this was the first step toward national unity. This is representative Wálmaro Gutiérrez, from el Frente Sandinista.
(ARCHIVAL SOUNDBITE)
[Walmaro Gutierrez]: Today we are demonstrating, as Nicaraguans, that we are able to forgive. We're able to reconcile.
[Luis Fernando]: Lucía, in her isolation, never heard about what was going on. Early morning of Tuesday June 11th, three days after the law was passed, Lucías' cell was opened while she was asleep. It was a security officer.
[Lucía]: And she told me to leave. And I said: "Where are you taking me?" Uh, "The warden will explain." "But this is no time to come," I said, "and move a prisoner. You have to give me an explanation." "Please, get out," she says, "because if you don't, we'll take you out by force."
[Luis Fernando]: They took her to the prison parking lot.
[Lucía]: There was a minibus with all my belongings on it. There were also the belongings of three other political prisoners who were still in prison. And they got them, and they took us to the men's prison. They got us out there at the men's prison; there were a few tables, well, set up and then I realized we were going to be released. Set free.
[Luis Fernando]: A group of several men also came. Among them was the director of 100% Noticias. They got them to sign all the documents from the Ministry of Governance which said they were being released under the amnesty law. And that very Tuesday morning…
[Lucía]: On a bus the International Red Cross used, they gave us a ride home. I stayed at director Miguel Mora's house.
(ARCHIVAL SOUNDBITE)
[Woman]: Come in, please!
[Luis Fernando]: In a video, you see Lucía and other prisoners entering Miguel's house. She looks at the camera, smiling, and jumps for joy…
(ARCHIVAL SOUNDBITE)
[Woman]: Lucy, Lucy!
[Lucía]: We're free!
[Woman]: Lucy!
[Luis Fernando]: There are a bunch of people: relatives, friends, journalists. A group of former prisoners gathers in the middle of the room and shouts…
(ARCHIVAL SOUNDBITE)
[Voices]: ¡Viva Nicaragua Libre! ¡Viva Nicaragua Libre! ¡Viva Nicaragua Libre!
[Luis Fernando]: You may have noticed that Lucía is very devout. She has tremendous faith, a kind of faith that ended up being essential to her surviving her time in prison, the inhuman conditions, the isolation. It's a kind of faith that guides everything she does.
So, of course, when I asked her how she felt the moment she was released, at Miguel's house, she said…
[Lucía]: Grateful, well, to God. Happy because God had made that miracle possible. I asked God to put in motion all his instruments here on Earth so that His will to free us would be fulfilled.
[Luis Fernando]: And she told me that two days before getting out of prison, she had started fasting.
[Lucía]: That fast was to free the prisoners, political prisoners and to free Nicaragua.
[Luis Fernando]: For Lucía it felt like a kind of reward. Now she was free.
But, well, to say she is free isn't completely accurate. Lucía and Miguel's cases still haven't closed, and the channel's equipment and facilities in Managua are still confiscated by the government. Also, most of the journalists and producers in the country left after the break-in. Now 100% Noticias operates on the internet. The team works remotely from Costa Rica, Nicaragua, and Miami. They broadcast the news and other programs on YouTube, Facebook and Twitter. And now… 
[Lucía]: We're going to recover the other space: cable.
[Luis Fernando]: To continue transmitting in Nicaraguan as they did before the crisis.
I contacted three representatives from the Frente Sandinista de Liberación Nacional —Wálmaro Gutiérrez, Jacinto Suárez, and Edwin Castro— to know what they think about Lucía Pineda and 100% Noticias's case, but by the date of publication, they have not responded. 
Between June 10th and 11th of 2019, 106 prisoners were released. In December more were released. But according to la Alianza Cívica, as late as February 2020, Ortega's government still retains 61 political prisoners.
And things in Nicaragua didn't calm down with the amnesty law. There may not be any more news of deaths or any more daily protests in the streets, but for Lucía…
[Lucía]: Currently we're, well, constantly living under a police state. In effect it's a state of emergency. They follow the former prisoners, threatening them.
[Luis Fernando]: A strong group of paramilitary soldiers that acts alongside the police to intimidate and spread fear has formed. The Catholic church has reported harassment and hounding by these groups. Amnesty International has recieved accounts of arbitrary arrests and the torture of imprisoned people. 
Protesting the government is now even illegal, and in order to organize a march of any kind, you have to apply for a permit from the police, but a lot of the time they deny them.
[Lucía]: They don't want to let the people march. They don't want them to express themselves.
[Luis Fernando]: And that's not all. Freedom of the press is also suffering. The offices of the media outlet El Confidencial were also broken into and the police confiscated all their equipment. Meanwhile, Metro and El Nuevo Diario —one of the most important newspapers in the country— shut their doors due to economic and logistical difficulties, including the hoarding of paper and ink by the government. Another media outlet that suffered due to the hoarding of paper and ink was La Prensa, which spent 500 days without the materials
Besides, several journalists have received death threats since the protests started and many have left the country. Currently, about 70 journalists live in exile.
The deaths, the arrests, the protests in the streets, the current fear, all that, well, it reminds Lucía of a Nicaragua that seemed to be stuck in the past. A Nicaragua of dictators and revolutions. A Nicaragua that has gone through a large part of its history in conflict.
[Lucía]: And it's sad because Nicaraguans have already made so much progress in terms of democracy and freedoms. It has already cost a lot of blood. They've already struggled for it.
[Luis Fernando]: But according to Lucía, that struggle isn't over.
[Daniel]: In 2019 the International Women's Media Foundation awarded Lucía Pineda the Courage in Journalism prize. Also, that same year, Miguel Mora and Lucía received an International Freedom of the Press prize from the Committee for the Protection of Journalists.
Luis Fernando is an editor with Radio Ambulante. He lives in San José, Costa Rica.
This episode was edited by Camila Segura and me. Sound design is by Andrés Azpiri, with music by Rémy Lozano. Andrea López Cruzado did the fact-checking.
The rest of the Radio Ambulante team includes Lisette Arévalo, Gabriela Brenes, Jorge Caraballo, Victoria Estrada, Miranda Mazariegos, Patrick Moseley, Laura Rojas Aponte, Barbara Sawhill, David Trujillo, and Elsa Liliana Ulloa. Carolina Guerrero is the CEO.
Radio Ambulante is a podcast by Radio Ambulante Estudios, and it's produced and mixed on the program Hindenburg PRO.
Radio Ambulante tells the stories of Latin America. I'm Daniel Alarcón. Thanks for listening.
[Silvia Viñas, co-host of El hilo]: If you use social media, you already know what a thread is. 
[Eliezer Budasoff, co-host of El hilo]: There's so much noise, so much information, and, in the middle of all that, someone takes the time to explain something. To give you analysis, context, history and more: they make a thread. 
[Silvia]: That's what Radio Ambulante Estudios' new podcast is about. 
[Eliezer]: El hilo [The Thread] is an invitation to better understand the most important news. I'm Eliezer Budasoff.
[Silvia]: And I'm Silvia Viñas.
[Man 1]: That's how impressive it was. I had never seen something like this, right?
[Woman 1]: And I'm not here to show my pain, because my pain is mine. But I did come to show my indignation. 
[Eliezer]: Every Friday morning, on El hilo we'll talk with the most trusted journalists and experts in the region. 
[Man 2]: People are usually more interested in destroying what they don't like, than in building something that they don't really know what it is.
[Woman 2]: That Bolsonaro, when he started his government, made the decision to bring the most radical individuals into the government.
[Silvia]: As well as the people at the center of the stories.
[Man 3]: If it were legal, the work would be dignified.
[Man 4]: The construction of peace is a process that involves all Colombians. This is not a matter between the FARC and the government.
[Woman 3]: Because it's a years-long fight. Maybe our mothers didn't see it, but we are going to see it.
[Man 5]: It's not the app that's making the delivery; it's a person who's carrying the backpack with everything you ordered.
[Eliezer]: We're going to answer what happened and where the news is going.
[Silvia]: News that affect our region.
[Woman 4]: When we say: "the last Venezuelan glacier", it serves as a wakeup call.
[Eliezer]: And the world.
[Man 6]: I'm in Wuhan, the epicenter of the coronavirus.
[Woman 5]: The more we control it, the longer it will be. But the less we control it, the quicker it will be, but also more devastating.
[Silvia]: El hilo, not just the news: the story.
[Eliezer]: Join us every Friday, starting on March 27th.
[Woman 6]: It's always a pleasure to be in this important podcast, which is already one of the most important in the continent, in such a short time.
[Daniel]: For more information, visit elhilo.audio. There you can listen to the episodes starting on Friday, subscribe to our newsletter, and find other ways to connect with us.