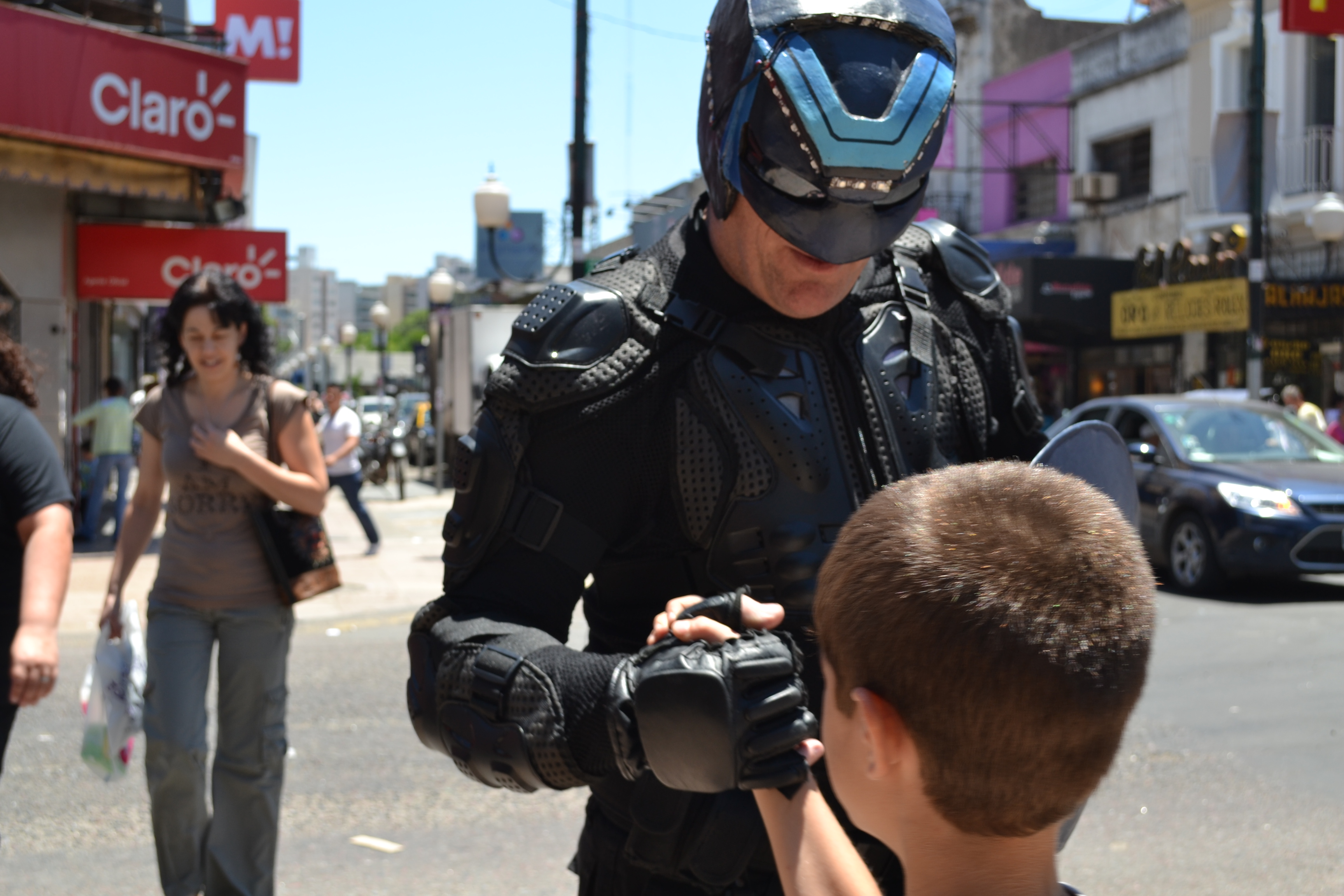 Behind the scenes with Menganno
Menganno is a man who doesn't reveal his true identity. A resident of Lanús — a town south of the province of Buenos Aires — he decided five years ago to begin wearing a blue suit, similar to Captain America, and became "Argentina's first real superhero".
Stories in the media would always mock him, treating him like a character in a comic satire. Images of Menganno in costume walking the streets of his city to "combat insecurity" were all over in the news. But whenever I saw them I wondered; What would cause a person to take the fight for justice into their own hands? Was he crazy? What did he do for a living? Should we be afraid of him rather than laughing at him?
I began looking for information about him online. I discovered that in addition to an official website he was active on social networks. I wrote to him asking for an interview, and soon we were in contact. One summer afternoon in 2012 we agreed to meet at a bar in the town where he lives. I waited for him for over fifteen minutes, until he phoned to tell me that he was almost there, and asked me to meet him outside. From a black car with tinted windows, a stocky man about 40 years old yelled at me: "I am Menganno!" I approached the car and he told me that because of the heat he wasn't wearing his suit, and that I was the first journalist to know his 'true identity'.
He explained that as his wife was very jealous, she would have to be present for the conversation. Indeed, she was present. From that moment on she was next to him in every interview we did. The last interviews were on the street, with him wearing his costume, which was somewhat bizarre: people would ask him for autographs and ask me to take pictures with him on their cell phones. One day he told me about his actual past, information that I won't reveal here because you'll learn all about it in the Radio Ambulante episode. But my insider tip was useless a few days later: Menganno shared a photo of his car on his fanpage, riddled with bulletholes left by men who had attempted to steal it. The news media couldn't resist a story of this nature; "even a superhero is the victim of insecurity." This time it was different though, because journalists finally began to wonder who this man, who says his only superpower is to "draw attention", could be? As his identity and other information you will hear in the episode became public, he quietly left the public stage, until I — as we were in production for Radio Ambulante — contacted him to see if he could tell his version of events. He told me something along the lines of, "even superheroes have problems, especially with the police." After more than two years of work, I still don't think I've found the answer to some of the question that I set out to answer: that is, should we really be afraid of Menganno, rather than laughing at him?
Text written by: Agustina Grasso (Agustina_Grasso) / Escritura Crónica
To listen to the Menganno's story click here.