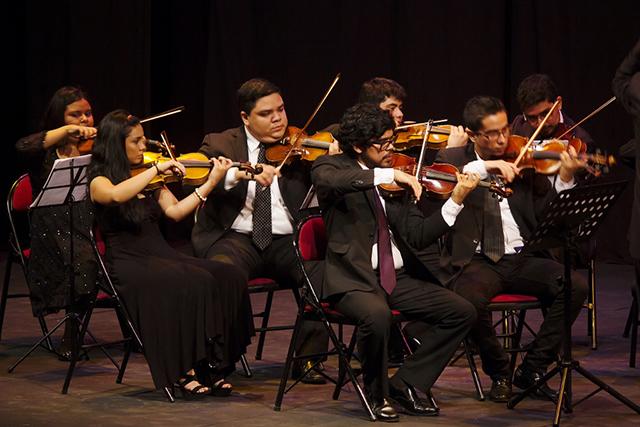 In the episode Postcard from San Salvador, we got to know Iris's story. Just as Iris shares her story of an unexpected occurrence on one of her daily bus trips to the city center, there are many other stories in this Latin American country that deserve to be highlighted.
For example, a group of daring young musicians from El Salvador who took the initiative to found the Youth Orchestra of El Salvador (JOES). The founders of this classical music orchestra, in an attempt to disassociate themselves from a limiting musical system, decided in 2012 to take on the challenges of their vocation and establish the JOES, proposing an alternative musical and professional path for their orchestra.
[ctt title="Memo in D Major from El Salvador" tweet="Memo in #DMajor from #ElSalvador @radioambulante http://ctt.ec/RV9U3+" coverup="RV9U3″]
"This is the story of an orchestra tired of playing Ricardo Arjona, Timbiriche and The Beatles. They wanted more: more complex pieces, longer rehearsal hours, and less Arjona with well executed arrangements to attract audiences. A lack of change in the (national orchestra) system was the reason that JOES emerged," points out the article "The rebels of classical music" published at El Faro.
Today the JOES perform music of their choosing by composers such as Vivaldi, Bach and Mozart, which is what these musicians have spent their careers aspiring to. Thus they place their faith in art and humanity, while surrounded by crippling violence.
If you like what you've just read, follow us on Facebook to find more content.
* All photos below were taken from El Faro with their permission. To learn more about photographer Fred Ramos, visit his website.