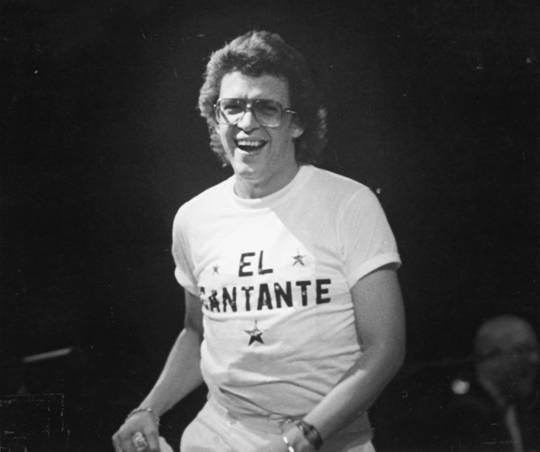 El cantante 1 – Escobar 0
Music has a special effect on people and connects them in a particular way. In the last episode of Radio Ambulante, Instruments of War, we listened to the story of Christian Martinez, a Colombian musician, who told us about what had happened to him and his fellow musicians one late night a few years ago after performing a concert near the town of Agua Chica, Colombia. It was a story they had promised to keep secret for years.
But musicians always have peculiar stories. They say that the Puerto Rican salsa singer Hector Lavoe got in a fight with the Colombian drug leader Pablo Escobar over a performance at a party Escobar was hosting. According to legend, Escobar wanted Lavoe's orchestra to stay longer and sing their hit song, El cantante, over and over. The musicians refused, so they were locked in a room from which they escaped into the Colombian jungle, barefoot and without their instruments. Deep in the jungle they reached a road where they found a taxi to take them to their hotel. Judging by their appearance, the driver thought they wouldn't have any money to pay. Lavoe assured him that he was Hector Lavoe.
"Alright, you'll have to sing El cantante then if you want me to take you to the hotel," the driver said suspiciously.
"Man, but that was the problem! One of those guys made me repeat that song like ten times, threatening me with a gun! So I got mad and told the orchestra: I'm not singing anymore, turn off the equipment and let´s go," said Lavoe.*
This is just one of the many stories musicians have to tell. To listen to the Instruments of War, our last episode about what happened to Christian Martinez's orchestra, click here.
*Colombian journalist and writer Juan Jose Hoyos's chronicle for Medellin's newspaper El Colombiano
Our next story comes to us from El Salvador. Tomorrow you'll hear the story of a woman who faces local gangs every day. Iris will transport us to one of the most violent cities in the world.
Did you like what you just read? Follow us on Facebook to find out more content.