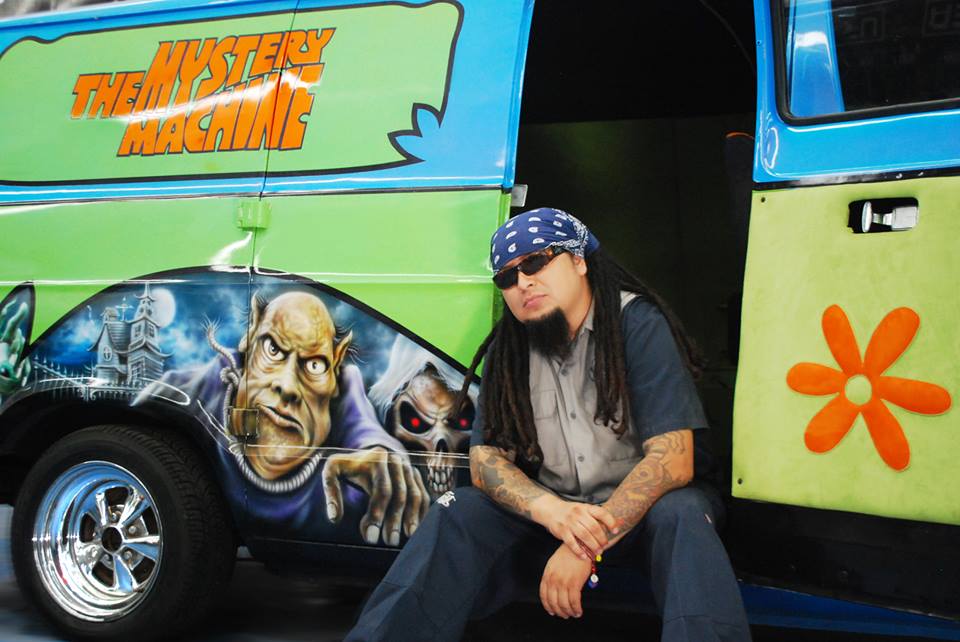 Translation: Pimp My Ride

---
Daniel Alarcón: Earlier this month, Twitter user @susisusan wrote "After having heard that multiple podcasts recommended to download the NPR One app, I finally did. And I want to say thank you, thank you, thank you. #Shame." Don't wait like Susi did. NPR is perfect to hear while you drive, tidy up the house, or to spend the time during vacations. Find NPR One in your app store.
Hello, I'm Daniel Alarcón, the executive producer of Radio Ambulante. Before we start, I'd like to ask you a small favor: we've been part of NPR for three months and we want to know more about you, our listeners. It doesn't matter if you've been following us for years or if this is the first time you run into this episode. We still want to get to know you. Please go to our website radioambulante.org/encuesta and answer a few simple questions. It won't take you more than five minutes and you will help us enormously. Thank you.
Here, within the Radio Ambulante team, we've been talking a lot about immigration, refugees, how to tell human stories that go beyond the political rethoric. So you will probably hear the results of these conversations in the months to come. But for now we think this is an appropriate time to dig into our archives and bring you one of our favorite stories. This story was researched by Levi Bridges.
And it starts with Mauricio Hernández, a forty-something Mexican.
Mauricio Hernández: I dreamed of being on television. That was my dream.
Daniel: Mauricio grew up in Mexico City in a middle-class family. When he was 15 years old, he decided –like many others– to cross the United States border to see if he could achieve his dream of becoming famous.
Mauricio: The first time we crossed it running, like everyone else, because there still wasn't a wall or a fence. In fact, they were building it. And I remember that we didn't make it two times. They caught us twice.
Daniel: Mauricio and his brother were deported both times, but finally made it to the United States on the third try. Mauricio's story is like that of a lot of Mexicans that cross over looking for the American Dream. Not everyone manages to live the dream, obviously. Mauricio did. But he did it on the side of the border he didn't expect.
Mauricio and his brother arrived in Los Angeles, California in 1991. He was a teenager that had never left Mexico. Everything left a huge impression on him.
Mauricio: There were always new things, new cultures, new attitudes, a new language, new stores, new products, new food. It was like being born again.
Daniel: One of the things that really got his attention was pop culture. It was the time of rappers like Snoop Dogg, Dr. Dre, and also, Lowriders: Cadillacs with a hydraulic suspension that made them bounce. Young people loved seeing rappers with lowriders in MTV music videos. And Mauricio was no exception.
Mauricio attended high school for two years, but never graduated. He had various jobs: at a hospital, at a confectionery… and when he was 17, he fell in love with Claudia, an undocumented Mexican girl like him, who had been in Los Angeles for three years. They ended up living together.
And had three children.
Los Angeles was the ideal place for someone that dreamed of being on television. But that dream kept getting further and further away from him. Mauricio had to work to provide for his family. He started to work as a mechanic at a car shop after having already had his first two kids and he was still living with his girlfriend. He earned more money in the garage than in his old jobs and really enjoyed it. But since he was an immigrant, they usually gave him the worst tasks, the ones that had nothing to do with cars. The first thing they made him do was sweep.
Mauricio: I was like the ugly duckling of the shop. The person that sweeps isn't always the worst, but he is the one that everyone likes to bully, right? It's like: "sweep the floor, clean the shit, do this, clean the bathroom, take out the trash."
Daniel: But Mauricio wasn't discouraged. He worked long hours and passed through several shops, each time leaving with new skills.
Mauricio: Washing cars, polishing cars, sanding cars, preparing cars. And afterwards, I learned how to do body work, to fix scratches, to put them together and take them apart.
Daniel: Up until then, Mauricio was just an ordinary mechanic. But in 2004, he made his way to Ryan Friedlinghaus' shop, the owner of the internationally known West Coast Customs brand.
More than a brand, West Coast Customs is one of the most famous body shops in the world. Today it has franchises in Russia, Germany, and Japan, among others. Ryan gave Mauricio a job polishing and sanding cars. Mauricio worked so many hours that some nights, he was alone at the shop. During that time, Ryan was about to get a divorce. When he fought with his wife, Ryan came to the shop to hide from his problems and it was up to Mauricio to console him.
Mauricio: I saw Ryan cry. I had to hug him when he was going through difficult moments.
Daniel: Mauricio and Ryan became friends. Ryan put Mauricio in charge of delivering the keys back to clients when their cars were ready. But these weren't common or ordinary clients. By the end of the 90s, West Coast Customs was so popular in Los Angeles that most of their customers were actors, singers, and famous athletes.
Mauricio: Snoop Dogg, Paris Hilton, Shaquille O'Neal, Kobe Bryant, Sylvester Stallone.
Daniel: Mauricio became a car mechanic for the stars, and over time, he also became one of the most important people inside the shop.
Mauricio: I almost ended up becoming Ryan's right hand. Ryan ended up giving me the keys to the shop in Corona, California, just like that, with his eyes closed.
Daniel: Being a mechanic was going really well for Mauricio, but he never imagined the job would get him on television.
Xzibit: Clear! I'm about to pimp her ride, let's go!
Daniel: In the beginning of 2004, just when Mauricio had begun to work at the shop, MTV picked West Coast Customs as the shop where they would customize cars for "Pimp My Ride," one of the first reality shows in the United States.
The show's format was simple: every week, they picked someone that drove a crappy car and West Coast would fix it. Not only did they put in new wheels, eccentric upholstery, and sound systems. They also added new things, as cool as they were weird: for example, a television in the backseat –remember that it was the 90s, so it wasn't something that common– or a giant fish tank that filled the trunk. And one of the people doing these custom jobs was Mauricio.
But he almost never appeared on television.
Mauricio: I was always behind-the-scenes, never in front of the cameras. I was always the tin man. I always helped prep. I was never the star of the show.
Daniel: Despite that, his job was fundamental to the show and he felt proud to do it. Every Monday, another beat-up car would arrive and Mauricio had until Friday to give it a complete make-over and have it ready for the taping.
Mauricio: We used to work 10 to 12 hours each day. We were always working, always.
Daniel: And Mauricio had to make big sacrifices.
Mauricio: The truth is I lost out on a lot of things happening to my kids because I was working: their early years, watching them grow up, school.
Daniel: Mauricio only spent Sundays with his kids. But he saw the comfortable life he was able to give them and that gave him satisfaction: a luxury apartment, two cars, trips to Disney –everything thanks to his work at West Coast. But for his partner, it wasn't enough.
Mauricio: My partner told me I had to choose. West Coast or my family. And I chose West Coast. I wanted to keep working because it was my dream to be on television and even though I wasn't the star, I was still doing what I loved, which is working on cars.
Daniel: That's why he kept fixing up cars for "Pimp My Ride," despite still not having permission to live or work in the United States. But he wasn't the only one. There were around 10 mechanics without papers. Mauricio says that nobody at MTV seemed to care that they were undocumented because they were officially Ryan's employees.
Mauricio: Ryan paid us. MTV didn't pay us, and Ryan paid cash. We never received benefits. Nothing, not medical, not social security, nothing.
Daniel: So it didn't scare him to work on an MTV show, one of the most well-known networks in the United States. On the contrary, his American friends at the shop joked with all their undocumented co-workers.
Mauricio: They used to yell at us that Immigration was coming because we were working illegally on television. It was funny.
Daniel: One day, someone way more important than Immigration came to the shop.
Arnold Schwarzenegger: Hi, this is governor Arnold Schwarzenegger of the great state of California.
Daniel: Schwarzenegger came on for the sixth season of Pimp My Ride in 2007. When he was governor, he had vetoed a law that would have allowed undocumented people in California to get a driver's license. One year after appearing on the show, Schwarzenegger came back to West Coast to customize his personal car.
Mauricio: And the funniest part was when Arnold Schwarzenegger came and I had to drive his car and deliver it to him. That felt great. I said, "look, you made it so that nobody could drive without a license or papers and I don't have papers or a license and I drove your car. And I brought it to you."
Daniel: Four years after the first episode of Pimp My Ride, Ryan created a reality show about the day-to-day life of the workers at West Coast, including Mauricio, of course. The show was called Street Customs and aired nationally on TLC and the Discovery Channel.
Mauricio quickly became one of the most important characters on Street Customs, mostly because of his appearance. He always wore long shorts and T-shirts that were too big, which was the style back then in Los Angeles. He also had long hair, like a rasta, with dreads that reached down to his waist. His chill vibe and appearance made viewers see him as a friendly, down-to-earth, and funny character.
While young people were watching him on television, wanting to be their friends or invite him to their parties, many politicians –like Schwarzenegger– treated Latinos like they were intruders. But because of the show, Mauricio created a character that served as a bridge between the American community and the Latino community.
In 2009, a Mexican investor visited West Coast. Since he spoke Spanish, Mauricio's co-workers sent him to ask:
Mauricio: Hey, what do you want?
Daniel: The man from Mexico wanted to open a West Coast franchise in his country. It took six months to reach an agreement, with Mauricio serving as translator and key figure throughout the negotiations. We don't know the exact amount they agreed on, but according to Mauricio, it was high.
Mauricio: I was on the ball trying to sell because I thought I was going to get something out of it.
Daniel: Ryan accepted the offer, but Mauricio didn't receive any kind of commission, which is what he was expecting. Even so, he didn't leave empty-handed.
Mauricio: They wanted someone to come to Mexico to set up the shop and tell them how the show was made.
Daniel: And Mauricio was the ideal person. He knew Mexico. He spoke Spanish. And he had been on Pimp My Ride for four seasons. For that, they asked him to go to Mexico to help create the Spanish-language version of the show that would be called "Tunéame la nave."
Mauricio: In the beginning, I didn't want to.
Daniel: He was scared the show in Mexico would fall apart. Even worse, he thought that if he left the United States, he would never be able to return. But after thinking more about it, it seemed like a good opportunity. He signed a contract with Ryan and added his own conditions.
Mauricio: I said I just want to go for a few months and then I want to come back, but you have to help me get my visa. And he told me "sure, I'll help you."
Daniel: With the guarantee that Ryan would help him come back to the United States, legally, Mauricio said goodbye to his three children and flew from Tijuana to Mexico City in early 2009. So what happened when Mauricio came back to his country, almost 20 years since he had left? We'll be back after a break.
––MIDROLL––
Daniel: If everyday news make you anxious and angry –and you prefer not to listen to them–, I have a solution for you: Wait, Wait, Don't Tell Me, NPR's news quiz show. Every week, Peter Sagal goes through the news with panelists like Alonzo Bodden, PJ O'Rourke and Paula Poundstone. It's gonna surprise you and it's gonna make you laugh. Find Wait, Wait, Don't Tell Me on the NPR One app or at npr.org/podcasts.
Before the break, Mauricio had accepted to come back to Mexico to create the Spanish version of Pimp My Ride: "Tunéame la nave."
Mauricio: When I got to Mexico, the patriotism came out, the Mexican came out. It was that feeling of being back home.
Daniel: And to express his patriotism, he started to get tattoos of some of the most important figures in Mexican history on his arms and legs.
Mauricio: I have one of Coyolxauhqui. I have one of Quetzalcoatl. I have one of Zapata. I have one of Pancho Villa. Miguel Hidalgo, Morelos, Benito Juárez, Josefa Ortiz de Domínguez.
Daniel: After setting up the West Coast Customs shop in Mexico, they started to film Tunéame la nave.
Announcer: This is West Coast Customs Mexico, Tunéame la nave by Rexona for Men.
Woman: Ay! Please be nice, pimp my brother's car! Please!
Man: Please, TV Azteca, pimp my ride!
Daniel: Nobody knew the show's format better than Mauricio. For that reason, they made him the host.
Announcer: There's always someone running the show: and that's Mauricio!
Daniel: From the start, Mauricio gave the show his own personal spin.
Mauricio: Pimp My Ride was more dry. They wanted to do funny things, you know? But there wasn't a lot of creativity coming from the people. Here in Mexico, we're more snarky. We're funny, we talk a lot, we make noise. And over there, it was more serious.
Hey Churrumais, what's up with you?
Churrumais: Really sorry, Mau..
Mauricio: Look, you poured thinner on me!
Daniel: The show aired on channel 7 and reached all 31 states in the country. In Mexico the name West Customs and Mauricio Hernández became synonymous.
Mauricio: If you ask about Ryan in Mexico, nobody knows him. If you ask about Mauricio Hernández from Tunéame or West Coast, everybody knows me.
Daniel: Mauricio became an overnight sensation in Mexico. Back then, he couldn't walk down the street without being stopped by someone.
Mauricio: They talk with me, tell me stuff: kids, women, families, adults. They cry, they tell me, "Hey, please help me. Please pimp my ride."
Daniel: He was happy for having achieved what he had always wanted, but he missed his kids more and more. So after the first season of Tunéame la nave, he wanted to go back to California to visit them. But it wasn't that easy.
Mauricio: The deal I made with Ryan was to go to Mexico to set up the shop there and then he would help me get my papers so that I could return to the United States, which he forgot about. He never did it.
Daniel: Here it's important to mention that we tried to get in touch with Ryan a few times so that he could tell his side of the story. But his publicist told us that he wasn't available, but that he wished Mauricio, quote, "all the best."
Mauricio, for his part, still doesn't understand why Ryan didn't help him come back. He had helped him sell the franchise in Mexico. But Mauricio feels like Ryan abandoned him, betrayed him:
Mauricio: I might have been happy with a phone call or a letter telling me thank you for everything, wishing me the best and things like that. I never even received a thank you. It's the truth, nothing… nothing.
Daniel: Without a visa that would allow him to visit, he was stranded in Mexico. But his kids were in California and he wanted to see them. One day he decided to go to the American consulate in Mexico City to ask for a tourist visa. In the application he put that he had never been in the United States. But Mauricio had a criminal record in Los Angeles. In '92, in the middle of the unrest that stemmed from the Rodney King case, the police grabbed Mauricio as he was leaving a store that had already been looted.
Mauricio: And they charged me with theft, trespassing, and looting.
Daniel: Mauricio says he never stole anything. He just went into the store to see what had happened. But he still had priors on his criminal record and his arrest appeared on the embassy's system. They realized Mauricio had lied and rejected his visa application. Even worse, he was punished for it: he wouldn't be able to apply for another visa for five years. Mauricio wasn't ready to wait that long.
Mauricio: And since I had promised my kids that I would be there for Christmas, nothing else mattered.
Daniel: In December of 2009, Mauricio decided to cross the border walking, like he had done before with his brother when he was young.
It seems a little strange that the host of a successful TV show would decide to do something so risky. It's a crossing that thousands of people attempt each year, and we don't even know how many die along the way.
But Mauricio had promised his kids that he was going to be with them for Christmas. After not being a part of their lives for so long, perhaps he wanted to do something extreme to show them how much he loved them.
Mauricio arrived in Mexicali, a city on the Mexican side of the border with California. There, he met a coyote and other migrants. It was a tough trip. The terrain is uneven and the temperature in the desert is extreme. The group walked through the mountains at night. It was really cold. The first night, they took a break inside a cavern. The coyote said they were going to rest for 15 minutes. Mauricio was exhausted and fell asleep immediately.
When he awoke…
Mauricio: The coyote left me there on the mountain. He abandoned me.
Daniel: He doesn't know why nobody woke him up. Maybe they didn't see him in the darkness. He just knew that he was lost in a giant desert by the border.
Mauricio: I kept walking and even though I kept going, there was nothing. The only light I had was the moon.
Suddenly, a border patrol vehicle appeared on the United States side. It seemed like they were close. But Mauricio had seen the terrain during the day and knew that there were a bunch of mountains between him and them.
Mauricio: I saw the border patrol officer. I saw the lights, and I yelled at them. I wanted them to pick me up, of course.
Daniel: He wasn't afraid of border control at this point. He just wanted to survive.
Mauricio: But they never heard me.
Daniel: After 20 minutes, the lights from the border patrol officers disappeared. Mauricio turned around and tried to go back to Mexico. He walked through the desert without water, food, and enough clothing to face the cold. He just had his cell phone. He called an emergency number.
Mauricio: Someone from a company called Nextel picked up and I explained my problem, and they told me that they were going to track me. I thought at first that they would be able to find me through GPS, but no. Then, since I had no battery, I had to turn my phone on and off to speak with them.
Daniel: They told him:
Mauricio: Call us in an hour or two…
Daniel: The team that answered his call couldn't help him without knowing more details about his location. But Mauricio couldn't see anything in the darkness. So they told him that he had to walk more.
Speaking with someone gave him hope that they would be able to rescue him, but…
Mauricio: When I thought things were going to work out, it got cloudy and started to rain. So I couldn't see anything.
Daniel: It got so dark that Mauricio couldn't even see his hands. He started to panic. He was lost in the desert and the rain could damage his cell phone.
Mauricio: I bent down and saw nothing. I heard someone coming, but I didn't see anybody. I fell into a two meter ravine. I grabbed a stick like a survivor, in truth, I felt like a survivor lost in the jungle.
When the sun rose, I turned on the phone, called them, and they asked me what I saw. So I told them I saw red bushes and red stones. I told them, "Everything I see is red."
Daniel: They told him that red he saw had to be a chemical that had been used to put out the fires near the outskirts of Mexicali. So they told him to follow the red line because they thought it would take him to the city.
Mauricio: So I followed it. I followed the road until I got to a hilltop and I remember seeing the entire city. So when I saw the city, I started to cry. And I saw the sirens. And they told me, "They're waiting for you there. Do you see them?" And me, "Yes, yes, I see them." I went down, I fell, I got scraped up because I was desperate to reach them. And when I got there, I remember that they took me in, I hugged the paramedic, and I fainted until I woke up in a stretcher.
When I woke up, I had heat packs all over me, and they diagnosed me with 90% hypothermia. Maybe another hour or two in the mountains and I would have died.
Daniel: Mauricio didn't want to stay in Mexico. But once he left the hospital, he didn't want to walk across the border again either.
Mauricio: I'll never try it again. Like that, no. Never in my life.
Daniel: His experience in the desert was really traumatic.
Mauricio: Whenever I'm in a dark place or when the lights go out or something like that, I shake, I cry. And get stuck in this other place. I don't want to open my eyes.
Daniel: He returned to Mexico City the same day that he had promised his kids that he would be in California.
Mauricio: The 24th exactly, on Christmas Eve.
Daniel: In Mexico City he kept working as the host of Tunéame la nave. He became distant from his kids in Los Angeles. And today, they hardly talk.
Mauricio has already accepted that he won't go back to live in California. He married a Mexican woman and had two kids. They're little, and he spends more time with them than he did with his older children when he lived in California. He never imagined that he would live the rest of his life in Mexico.
Mauricio: I came for four months. Now I've been here four or five years.
Daniel: Although living in the United States changed his life, today, Mauricio recommends to his fellow countrymen to not go to the other side.
Mauricio: There are a lot of us in the United States. It's better to use the resources you have in Mexico and be someone in Mexico. I think it lets you be… you're freer.
Daniel: In 2013 Tunéame la nave was canceled. The penalty against Mauricio for lying to the American embassy ended last year and he will request a visa to find out if he'll be able to see his children. Now he's planning to create a new reality show. It just remains to be seen on which side of the border he'll do it.
Daniel: Levi Bridges is a journalist based in California. This story was edited by Luis Trelles, Camila Segura and Silvia Viñas. Sound design was in charge of our intern Andrés Azpiri. We thank the help of Gonzalo Pestaña with this story.
The rest of the team includes Fe Martínez, Caro Rolando, Desirée Bayonet, Ryan Sweikert, Melissa Montalvo, Elsa Liliana Ulloa and Barbara Sawhill. Our interns are Emiliano Rodríguez and Luis Fernando Vargas. Carolina Guerrero is our CEO.
Radio Ambulante tells the stories of Latin America. To hear more, visit our website radioambulante.org. I'm Daniel Alarcón. Thanks for listening.