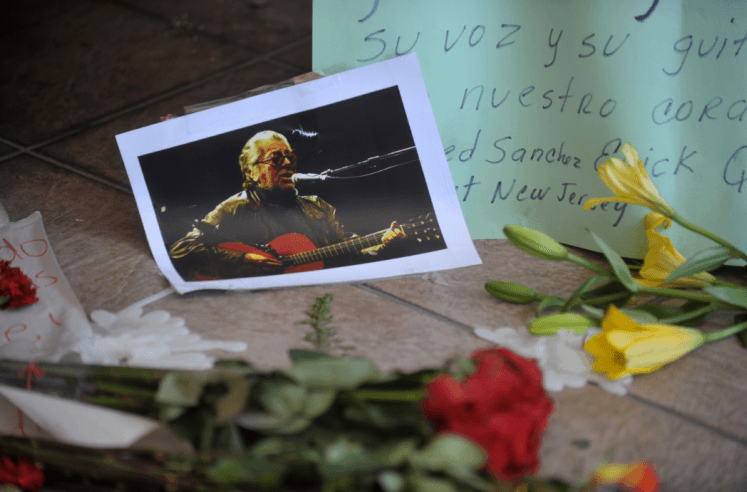 Translation: The Death of Facundo Cabral
---
Translation by Patrick Moseley
Daniel Alarcón: Welcome to Radio Ambulante. I'm Daniel Alarcón. A few weeks ago Alejandro Jiménez, aka "El palidejo"  [paleface], of Costa Rica, was sentenced in Guatemala to 50 years in prison for the murder of Argentinean singer Facundo Cabral.
The same sentence was given to 3 Guatemalan men for acting as the direct perpetrators of the crime. This sentence comes 5 years after Cabral's death which occurred on the night of July 9th, 2011.
In light of this news, today we are going back into our archives to bring you the story of that tragic night, narrated by producer Gabriela Llanos and her father Percy.
Gabriela Llanos: My father met Facundo in Argentina, in the 60s, when he worked as a disc jockey at Radio Universidad de Córdoba. They were both very young and Facundo had just started his artistic career.
Percy Llanos: He was a gawky man, but he also had an amazing appeal to women, a very seductive man, with long hair, beard, glasses….
An outfit which I think was the forerunner to wearing jeans, cowboy shirt and pants, Texas-style boots, which then led to many jokes with Facundo's sense of humor: in one of his songs he always says he puts on Texan boots but in reality they were from Córdoba, Argentina.
Gabriela: I was born in Córdoba. In 1982, in May, before the end of the Falklands war my family moved to Venezuela. My father went from working in radio to producing shows. He and my mom, Anita, created their own company. In 1983, they contacted Facundo, who had become an Argentinean pop music icon.
My father and mother were the first ones to bring him to Venezuela.
Percy: Because he already was a wanderer, a "first class" bum. Facundo was an idol, first in Caracas and then in the rest of the country. From there we started getting very interested in his work and we offered him tours around Central America.
Gabriela: For over twenty years, Facundo and my father organized concert tours, some very long, almost as long as three months. Every year, they traveled together. They shared dinners, breakfasts, talks, mate tea…
Until 1999, when Facundo was diagnosed with prostate cancer. From then on, he had many health issues, and in his final years he had to cancel several tours, including one around Central America in 2009.
It wasn't until 2011 when Facundo was able to reschedule this tour – a tough year for my family. My mother died in a horrible way, quick, without giving us time to take in her illness. Because of that, the tour was so short, so calm…
Percy: For me it was like a therapy. The doctors, and my daughters, my family, they had asked me to get back to work to get out of the depression I was in, and the best way to get back in a better state was to do something which was being handed to me on a silver platter, which was finishing this pending tour.
Gabriela: On July 2nd, 2011, my father and Facundo landed in Nicaragua for the first concert of the tour. Facundo wasn't well, his cancer had spread and he had to start another round of chemotherapy. Because of this, the week they spent together, my father wasn't surprised about the recurring theme in their conversations: dying. According to my father, Facundo even had premonitions.
Percy: Sadly I realized it later, not when he was telling me. Because I kept trying to excuse him whenever he said those things. I tried to make him see that when he talked about death it wasn't because he sensed his immediate end, but rather he sensed he was nearing the end because of his illness.
Gabriela: Arriving at the airport in Nicaragua, dad met the person who, without his knowledge, would be key in the fatal outcome of this story: Henry Fariñas, the businessman who hired them for only one concert in Managua. Facundo already knew him from a previous tour, that's why they greeted each other so warmly. For my dad, however, it was the first time they met.
Dad and I have spoken a lot about the day Facundo died and always, inevitably, we would mention Henry Fariñas.
Percy: I was surprised to see him. A young man, 42 years old. Dressed in yuppie style, like the modern businessman, not like the old businessmen I've met throughout the years in Central America with their cigars and their guayaberas…it was obvious Henry Fariñas was mostly a fan. He was a businessman, but a different kind, not the kind that put on shows.
Gabriela: The only concert Henry Fariñas organized in that tour was at the Teatro Rubén Darío of Nicaragua and was sold out, like the other two: the one in Guatemala City and the last one, at Quetzaltenango. Dad says that Facundo was in a good mood, wanting to talk, to joke, to enjoy the scenery…
Facundo Cabral: I am very glad to be here with you…we've been friends for many years…you gave shelter to my songs, and were my buddies, my partners, in this extraordinary adventure that is live…
Percy: I remember perfectly a chat I had with him during our trip to Quetzaltenango where he asked the driver to stop every other minute, at every place we passed, because he was remembering all the time he had spent there twenty years ago during his first trip to Guatemala.
Facundo Cabral: I've been walking this planet for 51 marvelous years…
Gabriela: Friday July 8th, 2011 was the end of the tour. They were supposed to leave the next day: Facundo heading to Buenos Aires to do his chemotherapy and my dad returning to Caracas. Both of them were melancholy. It was the end of a week where they had been able to escape their reality: Facundo of his cancer and dad of mom's absence. But on that Friday, going from Quetzaltenango to Guatemala City, everything took an unexpected turn…
Percy: The plane was leaving at six thirty in the morning and when we arrived at Quetzaltenango on Friday at about five or six in the afternoon, in the hotel lobby we surprisingly ran into Henry Fariñas. Immediately he offers to take us out, he invites Facundo to go out to dinner that night.
Gabriela: That Friday night, my dad found out that the businessman who hired them in Guatemala, Estuardo Castañeda, wasn't going to be able to take them to the airport the next day. He told Facundo about it during the meal, in front of Henry Fariñas, who immediately offered to take them in his car. Facundo gladly accepted, because they were going to the airport in Fariña's white Range Rover, an SUV he was crazy about…
Like in a movie, dad remembers what happened on the morning of July 9th, 2011 minute by minute. It was 4:20am. They left the hotel Tikal for Guatemala's Aurora airport.
Percy: Naturally, Facundo asked to sit next to Fariñas, as the copilot. I sat in the back behind Facundo and would get close to his seat often so he could hear me out of his left ear.
Gabriela: It was still night. Absolutely pitch black. There wasn't anyone in the streets, nothing around the white Range Rover. Dad and Facundo were speaking, curiously, about the future. Henry Fariñas was driving in silence. They were four or five minutes from the airport, when all of the sudden…
Percy: A kind of dry firing started. The minutes started passing slowly, when I saw Henry Fariñas fall face down on the steering wheel and the SUV turned towards the right, perhaps because Fariñas' body weight pressed his right foot on the accelerator. We crashed into a fire truck that was pulling out to respond to a call. I think that was our salvation at that moment because the hit men stopped firing.  I knew we were actors in a play we did not want to be part of. The point is, my world collapsed when I saw Facundo leaning his head on his left shoulder…I tried to lift him but I realized it was too late, there was no longer any possibility or hope that he was alive.
Gabriela: For a few seconds, dad thought he was also dead. But then he heard the sounds of a fire truck…
Percy: They surrounded the car and asked about the wounded, obviously. I told them it was Facundo. Saying simply Facundo doesn't mean anything anywhere, but in Guatemala to say Facundo Cabral is a different thing. They worried even more and immediately approached and with a gesture they let me know there was nothing they could do.
Gabriela: Henry Fariña survived the attack, which, obviously was directed at him. All the bullets came through his window, on the driver's side. Only one bullet escaped, the bullet that went through Facundo's head…It was, fleeting…
Percy: Facundo did not have time, he did not notice anything at all, I'm certain of that.
Gabriela: My dad was taken out of the car by the firemen, who were worried because he was covered of blood. They examined him and realized he only had a few scrapes on his body and a black eye. The worst was his fear.
Percy: They say fear is always free, I am not sure why. It is not free. I felt, it emerged from the state of shock I was in. I was like a robot, an automaton, so much that I couldn't even straighten my legs or arms. I felt there were seconds, maybe fractions of a second, in which I couldn't think. But when I did, my mind completely overcame the state of fear, the state of panic.
Gabriela: When he recovered, my dad wanted to contact us, my sister and me. He wanted to be the one who told us that Facundo was dead and he was alive. He was worried about the news being circulated on the internet. And indeed, the news of the death of Facundo Cabral was running all over the world…
My dad traveled to Madrid. My sister and I went to get him from the airport. When we saw each other we hugged for what seemed like forever. Then, for a while, we pretended nothing had happened. But I knew, we all knew, because we were following the news, secretly, without commenting on it. That's how we learned that the shooting was a reckoning against Henry Fariñas. That Fariñas, that cultured, elegant guy who was also apparently very serious about his work, was being sought by police for drug trafficking and human trafficking. Shortly after, he was captured and sentenced to 30 years in prison, the maximum sentence in Nicaragua.
Newscasts: Henry Fariñas supposedly used international artists to launder money. As confirmed by…
Today the businessman Henry Fariñas, who was wounded in the attack was captured at Managua's International Airport, in Nicaragua…
Guilty, that's how Nicaragua's justice system declared the businessman Henry Fariñas who was the main target of the attack in which the Argentinean singer Facundo Cabral died in July, 2011…
Gabriela: On July 9th, 2013, it was the two year anniversary of Facundo Cabral's assassination. We say a s s a s s i n a t i o n, with all its letters, and to us, it still feels like a terrible unfair movie.
Percy: Yes, when one tries to find an explanation for why things happen, why did it happen to me, why did it happen to Facundo…well, it can't be explained. The truth is that…I simply think I was spared because I wasn't on that day's agenda and Facundo was, it was Facundo's day. It was fate and fate was on my side, but it was against Facundo.
Gabriela: I see my dad doing well, as if he had grabbed onto life…We wrote a book together, and for him it was a kind of therapy, where he finally got out everything he had inside, he was finally able to cry…
Sometimes, when we are home and hear a song by Facundo, he gets a little angry…but luckily…he gets over it quick.
Daniel Alarcón: We spoke with Gabriela a little while ago and asked her how her father was doing, if the news of the murderers' sentencing had affected him much. She told us that her father, Percy, hadn't wanted to read much about it because it brings him back to such a painful time. Every time this topic is discussed, Percy can't help but feel a sense of total powerlessness… The same feeling he experienced 5 years ago when he saw Facundo's head leaning against his left shoulder and thought they were both dead.
Gabriela Llanos is a journalist with la W, Prisa Radio, in Spain. The book she wrote with her father, Percy, is called "Facundo Cabral: crónica de sus últimos días" and was published by Alfa publishing house in Venezuela and el Grupo Clarín in Argentina.
This story was edited by Camila Segura.
The rest of the Radio Ambulante team includes Martina Castro, Silvia Viñas, Luis Trelles and Barbara Sawhill. The exectutive director is Carolina Guerrero.
Radio Ambulante tells the stories of Latin America. To hear more, visit our web page, radioambulante.org
I'm Daniel Alarcón, thanks for listening.